TopFoto Debuts its Stills Collection at footageMarketplace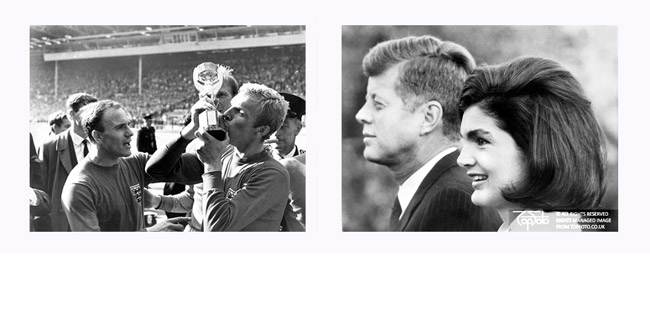 Major stills library TopFoto is attending footageMarketplace for the first time because a substantial part of their business is licensing archive stills to film and TV production researchers.

Their area of leading expertise and content is licencing stills, they are a preferred supplier to the BBC for WW1 material for example, and supply independent production companies with everything from pictures of UFOs to notorious criminal cases. With collections painstakingly built up over nearly 90 years and covering every subject and era, they are hard to beat for choice, speed and service. Here's just a few major recent/current projects where they supplied key images: House of Windsor, Happy Valley Murders, Restoration Man, Disappearing Britain, 1916, Who Do You Think You Are?, Hillsborough, and the wonderful movie, A United Kingdom.

Flora Nedelcu, TopFoto Managing Partner, says, "My main objective on the day is to build on TopFoto's success at fotofringe London, the annual event which I created seven years ago. Despite, or rather because of, the rapid development of technologies, personal contact between media researchers and suppliers is an essential support for the right content, on time, on budget and with the right clearances. This all fits with our 2017 plans for TopFoto which includes a strong presence at selected industry events, of which footageMarketplace, fotofringe are the most important ones."

TopFoto is a huge asset to the TV and Film industry, with a great depth and range of material and the welcome benefit of a full in-house search service at no extra charge. TopFoto has six million digitised images available for immediate download, and that they have been collecting huge old news archives and all sorts of strange and wonderful collections since Flora's father Alan Smith took over the original 1927 business from John Topham in 1975. Everything in the archive is searchable by their in-house team, and they have a production department that scans and uploads relevant images on demand. Flora continues, "There's no hanging about and having to wait for our customers. TV and film archive researchers are often in a tearing hurry, and often need something rare - and we lead the field in both those areas. My personal favourite search of all time is 'hello, do you have anything at all on making traditional rabbit pie?' Our researcher went to the archive, into the "tins" of 10 x 8's taken for magazines in the 40s-70s, and there she found….. a perfect series of beautiful photographs covering every stage, from preparing the rabbit to serving up the pie!"

Over 30 stills and footage libraries, technology companies and industry organisations are exhibiting at the event, which is the UK's premier expo for the footage media sector.
Flora says, "I'm looking forward to our first footageMarketplace, and the seminars sound fascinating. VR? AI? Bring it on, life is visual." See them on Table 27 at the home of BAFTA 195 Piccadilly on May 24th.

Registration is now open: Click here to ensure your badge is waiting for you on the day. It is free for industry professionals. A complimentary buffet lunch will be served, and refreshments are available during the day. This is the place to come to network, do deals, and attend seminars by leading industry figures.

24th May 2017 – 9.30 - 16.30
195 Piccadilly (home of BAFTA) London W1J 9LN.

Websites: www.footagemarketplace.com
www.topfoto.co.uk

Next >

---
Mary Evans Shows Stills Collections at footageMarketplace
Making their debut at footageMarketplace, the UK's premier footage event, is the renowned Mary Evans Picture Library, one of the world's leading historical picture libraries. Established over fifty years ago, they will be showcasing the depth and range of fascinating content available from their in-depth stills collection at the show, which now includes an impressive million-strong film stills archive.


Coming to footageMarketplace - iMetaFilm Shows New Digitisation Process
iMetaFilm is a new revolutionary motion picture and archive film digitisation company. They offer the safest, steadiest and sharpest way of digitising 8mm, 16mm and 35mm film at a cost-effective price. In addition, their unique method for embedding metadata within the image of the film allows it to become fully accessible, multi-lingual and searchable.


Global ImageWorks Shows the Best of US TV Archives at footageMarketplace
The Global ImageWorks' footage collection encompasses over 60,000 digitised clips and includes both historic and contemporary footage from documentary filmmakers, travelogues, and a variety of other productions. GIW exclusively represents: The Dick Cavett Show, Austin City Limits, The History of Rock 'n Roll Interviews, and other major US TV programmes from the archives.


Bridgeman Footage Brings Art and History to footageMarketplace
Bridgeman Footage's rights-managed footage collection comprises new and exclusive films including social history and newsreel archive, HD world travel and archaeological sites, artist profiles and vintage animation. Bridgeman, are of course famous for their extensive collection of art and artist-related material but their footage collection expands beyond this strong base.


Dashcam Footage Shows Small Plane Crash Landing Onto City Street
A vehicle's dashcam captured dramatic footage of a small plane crash landing onto a city street in Washington State in the USA on Tuesday and it was broadcast on CTV news.The video shows the single-engine plane ripping through power lines and causing a traffic light to burst into flames before slamming onto the road at approximately 3:40 p.m.


Topfoto – Comprehensive Historical Collection Exhibits at footageMarketplace
Topfoto, recognised as one of the UK's finest collections of stills related to historical subjects is showing off their amazing breadth of coverage at footageMarketplace, the footage industry's best event for meeting up, networking and dealing, in central London on May 27th.


HosiHO New Aerial Images from France - 15% off till May 15th
HOsiHO.com is a fresh and French online library with collections of fantastic aerial video footage and photos from the world, mostly shot with drones (UAV) by more than 60 talented professional photographers and cameramen based worldwide. They are offering a 15% discount until May 15th.


Advance Whacky Footage Alert – Cult Band KLF Reform
One of the most iconic cult bands Britain has ever produced – the KLF, also known as the "Justified Ancients of Mu Mu" for their use of the conspiracy theory thriller/SF books The Illuminatus Trilogy are reforming. Among their left-field triumphs were creating some of the most influential pop videos of the 80s and early 90s, including Justified And Ancient [All Bound For Mu Mu Land] with country star Tammy Wynette, a shoot believed to have cost 500,000 pounds.


Incredible Footage of Great White Shark Feasting on Whale
Rare and spectacular footage has surfaced on Youtube of a great white shark tearing into the carcass of a humpback whale off the coast of California.


Clarifai Excels in Visual Recognition – New Exhibitor at footageMarketplace
Clarifai is an artificial intelligence company that excels in visual recognition. Clarifai's powerful image and video recognition technology is built on the most advanced machine learning systems and made easily accessible by a clean API, empowering companies to build a new generation of intelligent applications. They will be exhibiting at the UK's premier footage, information and networking event, footageMarketplace on May 24th.


Kitty Hawk Electric Microlight Aircraft First Flight
Kitty Hawk is the "flying car" company that's financially backed by Google founder Larry Page, and it has published the first video of its prototype aircraft. This is a microlight aircraft (which therefore needs no pilot's licence) optimised to take off, fly over, and land on water.


See the New BigEasyOne Media Managment Platform at footageMarketplace
BigEasyOne is the all new media management and ecommerce platform based on a decade of stock library experience. They will be exhibiting in central London at the UK's most prestigious stock footage event, footageMarketplace on May 24th.


British Pathé Reclaims German Rights To Its Newsreel Collection
British Pathé, the world-famous newsreel archive, has this month launched a new licencing service in the German-speaking world. This marks the first time in many years that media professionals in these territories will be able to licence footage from British Path? directly, rather than dealing with third-party representatives.


Ardea Wildlife Pets Environment Runs Wild at footageMarketplace
Ardea has been supplying specialist wildlife, pet and environment images to film and broadcast media for almost fifty years and represents many contributors exclusively. Researchers can search personally, or their professional researchers can perform research for clients and tailor quotes for all uses and budgets.


Antarctica in HD from NFB Archives
In honour of Earth Month, NFB Archives bring you over 350 HD-native shots of Antarctica and its wildlife. The result of their partnership with filmmaker and biologist Jean Lemire's production company Glacialis, this stunning material is ready for download at NFB Archives.


Films of Robert Mugge – Great Music Collection from Global ImageWorks
Global ImageWorks is proud to showcase the newly remastered films of world renowned music documentarian Robert Mugge. Robert Mugge is an American filmmaker and documentarian who has been capturing the essence of great musical performers and performances since the 1970's.


Meet Adobe Stock at footageMarketplace on 24th May
Adobe Stock provides designers and businesses with access to over 60 million high-quality, curated, royalty-free photos, videos, illustrations, and vectors for all their creative projects. It's seamlessly integrated into Adobe's desktop apps, including Photoshop CC, Illustrator CC, and Premiere Pro CC, so they can search, browse, and licence assets from Adobe Stock directly within the applications.


MythStock Raises its Flag at footageMarketplace
MythStock specialises in cinematic, anamorphic footage shot with true anamorphic lenses on RED cameras. Their unique collection is available up to 6K, featuring clips of astonishing power and beauty from award-winning cinematographers worldwide. You can meet them in Central London on May 24th at the UK's best event for stock footage.


Vintage Cloud Comes to footageMarketplace
Having recently acquired renowned film editing table manufacturer Steenbeck and created the world's fastest film archive digitization system, Vintage Cloud has now made it the most intelligent, using artificial intelligence (AI) technology and machine learning, to create metadata. They will be showing this technology at footageMarketplace in central London on 24th May.