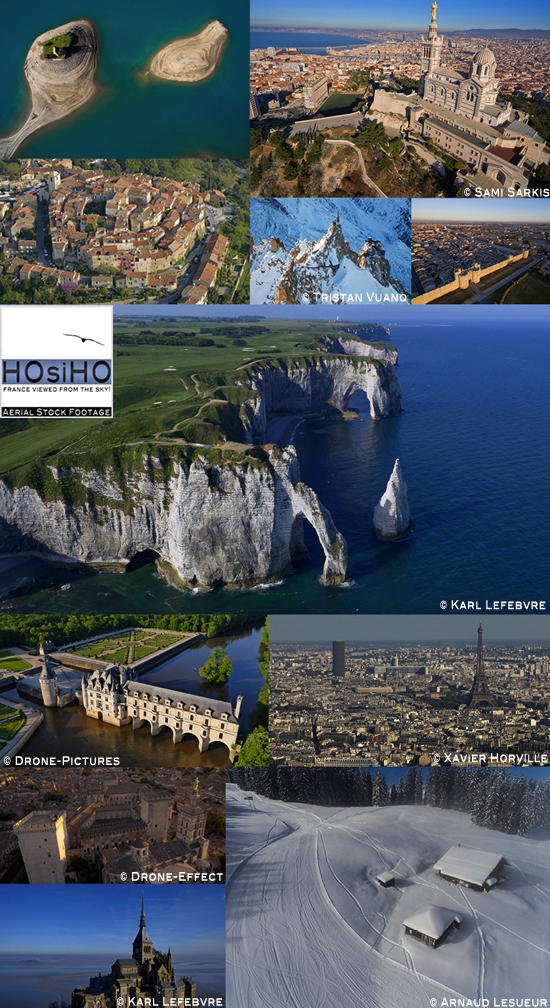 Profile
HOsiHO is a niche collection of fresh aerial stock footage and stills of France, mainly shot by drones and microlight by more than 40 talented professional photographers and cameramen based at the four corners of France. 

Through the library you can easily license high-quality material immediately online today, including video 4K.
Our aerial images depicte the outstanding natural and architectural sites of France and are produced using a variety of aircraft that are duly empowered to operate in France.
We are energetic, growing fast and constantly adding new images, so please come and visit soon. 

If it turns out that we don't have the footage or photograph you urgently need, we can shoot it very quickly through our network of partners and make it instantly available online for you to download: please check the Shoot-on-Demand service!

Be sure not to miss those top French locations already waiting for you in our library: Verdon gorges, Pont du Gard and Languedoc-Roussillon region - Loire valley and Chenonceau castle - Mont-Saint-Michel - Marseille, Avignon, Lyon, Paris - Provence villages - Normandy - Brittany - Camargue - Ardeche - Limousin.


Specialities
Aerial footage and stills of France: Landmarks, Architecture, Cities, Landscapes, Monuments.

Size Of Library
3000 videos and photos.

Client List
European and US broadcasters and TV producers like: NBC, ARD, Keo Films; France T?l?visions; R&G Productions; Nonfictionplanet; Panasonic; FDJ; Bildfein Medienproduktion; 64milliemes; BlackDynamiteProd; Bor?ales; Shine France

HOsiHO
Aerial Stock Footage of France


5 bd Camille Flammarion
Marseille
13001
France
Tel: 00 33 646 194 926

Contact name: Sami Sarkis




All clips appearing on this website are protected by UK and international copyright laws. You may NOT reproduce them in any way, for any purpose whatsoever, without the explicit permission of the respective copyright holders.