Exporting Saudi Arabian culture through film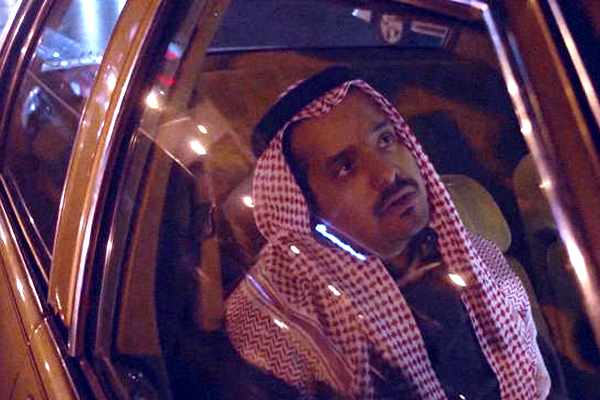 The new movie industry in Saudi is mostly driven by younger generations weaned on American entertainment and who are self-taught or study filmmaking abroad, find actors and crew on social media, and distribute their films largely on YouTube.

The newly opened King Abdulaziz Center for World Culture is promoting this community through Saudi Film Days.

"We're building their character and turning them into a global citizens. We're also positioning the center to attract performances from other countries," says director Tareg Al-Ghamdi, adding that the center is already doing exhibit exchanges with American art museums. "But our major interest is to grow the film industry in Saudi Arabia."

An initiative of Saudi Aramco oil company, the Dhahran-based center, is an 860,000 square-foot megacomplex of museums, galleries, and classes in multimedia, STEM learning, and the arts. Its goal is to empower society through knowledge, and move away from relying on a single-source (oil) economy. It also hopes the films will offer a glimpse into Saudi life.

"The movies are open for every interpretation," says Al-Ghamdi. "These young people brought societal issues that they wanted to engage in."

LINK

Next >

---
Nabil Elderkin: the man who captures the stars for album covers and music videos
Kanye West, the Weeknd and Bon Iver all owe a large part of their visual identity to the man who shoots their album covers and videos. Now, with a forthcoming movie, Nabil Elderkin has set his sights on Hollywood.


How TV shows are made
2016 has provided a bumper crop of compelling TV content. And all of it has to actually get written, shot, edited and distributed. BGR caught up some of the folks at CBS Digital, a creative studio and production entity within the CBS Television City studio complex in LA to get a look behind the scene.


Hollywood needs a new timetable to avoid the year-end glut
Academy Awards attention is supposed to help the movie business. But the math isn't adding up. This year, there will be 15 films opening Dec. 21-28. That's more than double the number from 2015. In November and December, 44 films will open, up from 34 last year.


Google's Pixel campaign is bringing its brand reputation to hardware
It's so simple. That search bar. It's just a blank rectangle, and yet as soon as we see it, we know exactly what it is, what it's for, and how it's become an integral part of our everyday life. That search bar is also the star of Google's newest global campaign to pitch its newest foray into hardware, the Pixel smartphone.


Lessons that video games could learn from television drama
Game designer and programmer Brie Code wrote an interesting opinion piece for GamesIndustry.Biz, entitled "video games are boring." The article questioned pretty much all our assumptions about what games are, how they work and what they can do.


China passes law to ensure films 'serve the people and socialism'
In development since 2011, China has passed new laws that ban film content deemed harmful to the "dignity, honour and interests" of the country. It also encourages the promotion of "socialist core values."


How does the UK TV Industry equal its US counterpart?
Most things are bigger in America: portion sizes, buildings, roads, the TV industry. Bigger, however, does not always mean better. The problem is, in the case of the television industry, it does, according to Gemma Scarascia.


User-generated VR is poised to be a dominant market force
VR is all the rage these days, with much attention focused on innovative professional VR content and the high-end tools needed to create it. However, The User-Generated VR Revolution, a new study by Suite 48 Analytics, hosts of the annual Mobile Photo Connect conference, looks to the many innovative VR cameras and smartphone apps coming to market that enable users to capture 360° photos and videos.


The hopes and headaches of Snapchat's glasses
Can Snapchat show off the masterful marketing and smooth execution required to produce a product that won't die on stores shelves or in a desk drawer? The real question is whether people will want or need Spectacles when they already have a camera phone, how Snap Inc can avoid them becoming geeky or creepy, and how they might change the future of the startup and how we capture social media.


From Rihanna to Instagram: How Luc Besson's new obsessions brought
Filmmaker Luc Besson isn't precious about where he works. Since he eschews computers and prefers to write out his scripts longhand with pen and paper, he is comfortable holing up wherever and whenever he happens to be and getting to work. In fact, he has but one simple creative demand.


Despite making around 2,000 movies a year, India's film industry just doesn't rake in enough money
Indian cinema may be churning out blockbusters that set the box office on fire but it will need many more movies such as Salman Khan-starrer Sultan or Akshay Kumar's Airlift for the industry to make a global mark.


Freeing images from the page paradigm will change everything
Images are escaping the constraints of the page – whether physical or virtual – and this ability to view "more of a photo or video" (the scene on the left, the right, above, below, behind) as well as its depth information will become the baseline of how photos and videos are shared.


XOXO: How to make a movie for the under-20s
XOXO is the EDM film that seems perfectly pitched to win over young audiences - but only Netflix know if it's actually working.


What's wrong with video advertising and how to fix it
Video advertising holds so much promise, but it's being severely hampered by everything from a dearth of choice ad spots to a surplus of fraud.


Toronto's film industry is booming
Stoked by a drop in the Canadian dollar against the U.S. greenback, favorable tax credits and a surge in demand for original content by companies such as Netflix, Amazon and Hulu, film and television production is at a record in Canada. Toronto alone will play host to almost 700 productions in 2016, according to the city.


Tim Cook just nailed the problem with virtual reality
In the past, Apple C.E.O. Tim Cook has been reticent when it comes to his company's plans to develop virtual and augmented reality technology. It is "really cool and has some interesting applications," he said in January during a company earnings report, but didn't reveal much more.


Jon Favreau on 'Gnomes & Goblins' and Virtual Reality
"Gnomes & Goblins" is Mr. Favreau's experiment with virtual reality. Hovering somewhere between a movie and a game, the preview version of the project makes you the protagonist and sets you in the middle of an enchanted forest, where you can build a relationship with a timid, tiny goblin living there. How you choose to interact with him determines where the story goes.


How virtual reality could change computers as you know them
Virtual Personal Computing, in which the entire PC experience is based around VR or AR, is the latest development in VR and AR innovation. What does this mean for computers? And more importantly, who will adapt the fastest to this new trend?


The original virtual reality pioneers were 19th-century filmmakers
From its very inception, the history of cinema is rife with descriptions of what the form was destined to become. One of the qualities that many of these accounts share is the idea of bringing us as close as possible to manufactured reality.