Europe's virtual reality sector has grown to nearly 300 companies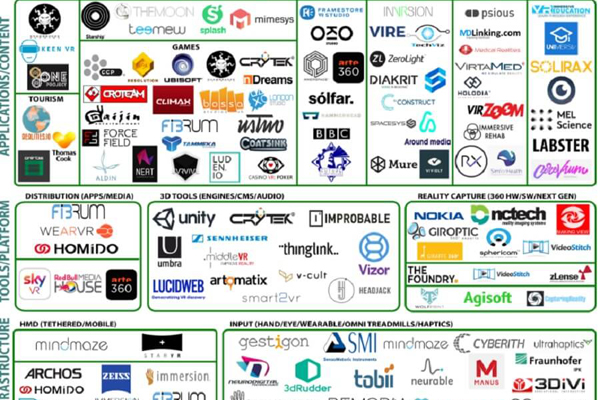 The first European Virtual Reality landscape research shows that games are the most competitive space.

User input technology — focused on interactions in VR by brain (BCI), body, eye, feet, and hand — has many premium players, such as the Swiss-based company MindMaze that raised $100 million, the largest amount raised in one round by any European VR company.

Companies in VR post-production are developing 3D tools, and leading American software companies have acquired several of these startups over the past two years: Google acquired Irish Thrive Audio, Facebook acquired Scotland-based Two Big Ears, and Snapchat acquired London-based Seen/Obvious Engineering.

More than half of the companies included in the landscape are based in the U.K., France, Germany, and Sweden. Overall, France is taking the lead in VR in continental Europe.

"The VR industry is booming and not just in the U.S. or Asia. The old continent has known a slower start, but definitely got up to speed during the past two years," says Leen Segers, cofounder and CEO at LucidWeb, in a statement. "The VR gaming segment remains the most competitive space but is surely challenged by a large number of companies focusing on user input or 3D tools. We feel very excited for the future as we see local and international investors are clearly investing in these segments, too."

LINK
Next >

---
Adobe's path to entering the Virtual Reality story
The future of technology, so say the sages, is invisibility. The point being that the digital reality and the physical reality are merging. Technology has cozied up to us, surrounds us and, at higher rates, might even enter us. Virtual reality feels like the motion goes the other way: We enter technology.


Visual Effects made the return of some iconic Star Wars characters possible
The Academy of Motion Picture Arts and Sciences released its shortlist of 10 movies that will vie this year for the best visual effects and Rogue One: A Stars Wars Story made the cut. But when members of the visual effects branch meet to review footage from the film, they'll have more to consider than just the new planets and warring spacecraft that have been created for the film.


Hollywood is terrible at making video game movies
Four successful video game series produced 4 unsuccessful movie adaptations. What gives? 2016 could have been the year that movies based on video games finally leveled up. Instead it was the year that Hollywood proved over and over again that it can't make a video game movie that's any good.


Netflix will double its original series in 2017
2017's Netflix's original programming lineup will grow to up to 1,000 hours, more than doubling from 2016, and "that's a conservative measure right now," said Sarandos, speaking at the UBS Global Media & Communications Conference in New York.


Get ready for multisensory Virtual Reality
While the typical VR rig only deals with the senses of sight and sound, our bodies and brains engage with the world around us with a full suite of senses. By mapping other sensory experiences to VR experiences, developers could make things far more realistic and increase the devices' powers of teleportation.


Episodic virtual reality content is the future of VR
What was television like before episodic narratives? The development of serialized content transformed traditional entertainment media and virtual reality startups are now hoping it will do the same for their market.


Bollywood explores different ways to tell movie stories
Hollywood has been using film tie-ins – such as comics books, animated TV shows, video games and novelisations – for years to help movies reach wider audiences or expand their stories. Bollywood, however, has been slow to get in on the act. One growing Indian film franchise is now hoping to show others how it is done.


Film company co-founder on turning passion into profit
When Simon Kreitem shot a documentary about the final moments leading up to the launch of London's O2 Arena, he was well aware that it could also be the final moments of his film company.


Why you'll be able to watch new movies at home sooner than ever
Movie fans will soon be able to watch their favorite flicks at home much sooner after they hit theaters. In a potential boon to users of Apple TV, Roku and other online set-top boxes, Hollywood studios are negotiating to reduce the so-called theatrical window to just two to four weeks after a movie's release, according to one analyst.


Oculus is breaking every rule, in a bid to make virtual reality better
Oculus is a company that refuses to play by the rules. After finally launching its consumer headset, the Oculus Rift, back in March, the company is now preparing to launch another piece of consumer hardware, the Oculus Touch controllers.


The accelerating inspiration cycle
Dean Takahashi moderated a panel on the connection and inspiration happening between games, sci-fi, and real world tech at the Montreal International Game Summit. Panelists included Jonathan Morin, creative director at Ubisoft Montreal; Sebastian Alvarado, cofounder of Thwacke Consulting, science advisor for video games; and Andre Vu, executive brand director for the Deus Ex franchise at Eidos Montreal.


Exporting Saudi Arabian culture through film
A new initiative has Saudi Arabia introducing a generation of young filmmakers to Hollywood, while offering Americans a glimpse into their enigmatic culture. Despite a lack of commercial cinemas, film schools, or studio systems, a grassroots filmmaking scene is rapidly emerging in Saudi Arabia.


Nabil Elderkin: the man who captures the stars for album covers and music videos
Kanye West, the Weeknd and Bon Iver all owe a large part of their visual identity to the man who shoots their album covers and videos. Now, with a forthcoming movie, Nabil Elderkin has set his sights on Hollywood.


How TV shows are made
2016 has provided a bumper crop of compelling TV content. And all of it has to actually get written, shot, edited and distributed. BGR caught up some of the folks at CBS Digital, a creative studio and production entity within the CBS Television City studio complex in LA to get a look behind the scene.


Hollywood needs a new timetable to avoid the year-end glut
Academy Awards attention is supposed to help the movie business. But the math isn't adding up. This year, there will be 15 films opening Dec. 21-28. That's more than double the number from 2015. In November and December, 44 films will open, up from 34 last year.


Google's Pixel campaign is bringing its brand reputation to hardware
It's so simple. That search bar. It's just a blank rectangle, and yet as soon as we see it, we know exactly what it is, what it's for, and how it's become an integral part of our everyday life. That search bar is also the star of Google's newest global campaign to pitch its newest foray into hardware, the Pixel smartphone.


Lessons that video games could learn from television drama
Game designer and programmer Brie Code wrote an interesting opinion piece for GamesIndustry.Biz, entitled "video games are boring." The article questioned pretty much all our assumptions about what games are, how they work and what they can do.


China passes law to ensure films 'serve the people and socialism'
In development since 2011, China has passed new laws that ban film content deemed harmful to the "dignity, honour and interests" of the country. It also encourages the promotion of "socialist core values."


How does the UK TV Industry equal its US counterpart?
Most things are bigger in America: portion sizes, buildings, roads, the TV industry. Bigger, however, does not always mean better. The problem is, in the case of the television industry, it does, according to Gemma Scarascia.