Michael Caine on how the 1960s broke class barriers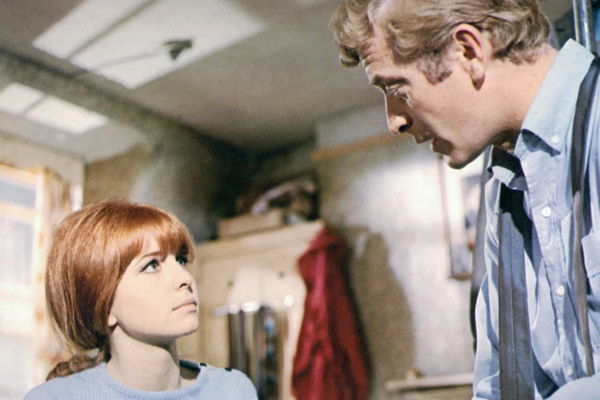 As a schoolboy, Michael Caine was repeatedly taught to respect "his betters". It took the social revolution of the 1960s, he says, to make it clear that such a hierarchy did not exist. "I've met lots of my equals since. But no betters," Caine told the Observer this weekend on the eve of the British premiere of his documentary about the outpouring of working-class creativity in the 1960s.

"True, there was a lot of new music and great actors, as well as books and film directors and some dancing in discos, but it was a lot more than that: it was a change in the social lives of young people," he said.

Caine says his chief motivation for making the film, which he co-produced, was showing modern audiences how post-second world war Britain began to offer a route to the top for the young, educated lower classes.

"There was a lot of snobbery then. It was terrible. There is a lot now too, but it can't really hurt anyone because we don't give a toss any more," he said.

Following Caine's career, the documentary charts the rapid pace of change, particularly in London. The actor now attributes the huge social shift to the influence of grammar schools, offering "a posh education for free", and to a national hunger for fun and colour after the war years.
"We were born in the depression and then the second world war came along. So there was six years of waiting each day to see if we got a telegram saying our dad was dead. Then I was sent to Korea as a teenager, holding the 38th parallel, and on to Berlin during the allied occupation.
"After all that of course we thought, 'Let's have a good time'. At first though, we didn't have anywhere to go. […]. No one organised the 1960s, but this is why it happened."


LINK

Next >

---
Group Nine Media creates new team to make shows for Facebook, Snapchat
Group Nine Media, a Discovery-backed holding company that oversees digital publishers NowThis, Thrillist, The Dodo and Seeker, is creating a new content team focused exclusively on making shows for social platforms.


How big tech became the new titan of television
In Hollywood, the screenwriter William Goldman once observed, nobody knows anything. But that was before technology companies rolled in sure of one thing: to conquer television you have to spend, spend, spend.


Meet the artists using virtual reality as their canvas
Standing in the pristine Gazelli Art House, an art space on Dover Street in Mayfair, London, it might seem that the future is already here. There are no canvases, photographs or pieces of art hung up on the gallery's white walls. Instead, there are four white headsets and sleek controllers that wouldn't look out of place at a video game convention.


Return of the B-movie: why big-budget flops could be good for cinema
For Hollywood, summer has been a disaster movie. The likes of King Arthur and Cars 3 crashed at the box office – but could they pave the way for a 'second feature' renaissance?


If VR is film's next big thing, how long will it take to get right?
"Let's raise a glass to risk-taking," says festival director Amanda Duthie, addressing the glitchy elephant in the room. And indeed, in the context of film festival programming, that is not a bad thing to drink to: perhaps glitches are the price you pay for bold and interesting programming, of the technology-reliant kind.


Virtual Reality and journalistic ethics: where are the lines?
Imagine if you could spend a morning climbing a skyscraper, running with the bulls in Spain, or even walking on Pluto. As news outlets experiment with immersive content like virtual reality and 360-degree video, a smartphone and simple cardboard headset can make that happen.


The constantly evolving Korean film industry: Web Content
As online and mobile platforms are becoming the norm, the Korean entertainment content industry is in the midst of expanding from web dramas to web movies. Mobile video is no longer simply about showcasing short films, with 10-20 min-long web movies specifically developed for mobile content users becoming the new trend.


"Escape The Asylum" and the promise of Interactive Entertainment
When are the voices in your head a sign of insanity, and when are they your salvation? That's the premise of Chatterbox, a choose-your-own-adventure-style suspense-horror experience in which the audience determines whether the protagonist, Jed, takes his meds, hooks up with other inmates, or trusts the alternate personalities that intrude into his thoughts.


The Shazam for art is like having a docent on your smartphone
In a magical future, whenever you come across a piece of art you know nothing about, all you have to do is aim your phone at it and you'll get its name, a short blurb, and perhaps even an audio criticism to listen to.


The role of AI in creative industries
Artificial Intelligence (AI) has fast grown to prominence in recent years across the technology sector. Accenture expect the innovation to double the annual economic growth rates of 12 of the largest developed countries by 2035. It's potential has in some sectors been overhyped, but in Robert Berkeley's view, it is set to play a crucial role in creative disciplines.


A day in the life of... MD of an augmented reality company
Everybody loves a bit of augmented reality – an exciting technology tipped to have a big impact but not yet having realised its potential (Snapchat and Pok?mon aside).


Why Apple Will Win The Augmented Reality Race
Tim Cook is betting big on augmented reality (AR). The Apple chief executive officer has been publicly bullish about the technology. He has likened the disruptive potential of AR to that of the smartphone upon which Apple has built its $800 billion business. Although analysts do not expect mass consumer adoption for years, Cook has said that AR will eventually become as ubiquitous as "eating three meals a day."


Why AT&T could put the TV advertising revolution on hold
Like an army amassing troops on the border, AT&T is inspiring a lot of speculation about what it plans to do next. Once the Time Warner merger is complete, will the company sell CNN, forever altering the cable news landscape? Will it snuff out the creative spark at Time Warner, forcing HBO to produce short, mobile-friendly episodes of beloved shows?


White men still dominate behind-the-camera jobs in TV
For all Hollywood's talk about diversity, the major broadcast networks have made little progress this year in hiring more women and minorities, according to data compiled by Bloomberg and confirmed by the companies.


Facebook, Apple, and Google will hasten the next era of TV
Not long ago, everyone saw Hollywood and Silicon Valley as opposites. The news that Apple, Google, and Facebook are all going to make multi-billion-dollar investments in producing scripted video entertainment may seem ludicrous—a folly launched by frustrated nerd-dom.


Market analysts see a coming boom in virtual and augmented reality
The battle to build a new generation of virtual and augmented reality experiences is already well underway, and if a new report from International Data Company is correct, the stakes might be higher than you might expect.


Steven Soderbergh has a new plan to make Hollywood movies outside the control of big studios
For most of his career, Steven Soderbergh has tried desperately to stay out of the movie studio machine.Though his biggest financial successes have come from Hollywood, he's been most comfortable being an independent. But Soderbergh craved more control as the years went on, and frustrated he couldn't get it, he retired in 2013. Four years later he has returned with a movie and has full control over it.


In a Heartbeat: the story behind the animated gay love short that's gone viral
It's not every day that a wordless, four-minute animated short about two young boys falling in love goes viral. But when recent college graduates Esteban Bravo and Beth David posted their senior thesis film on YouTube, that's exactly what happened.


Is the future VR ... or AR?
Google isn't trying to hide what it's doing with virtual reality. The long-term goal, said Google VR boss Clay Bavor on the latest episode of Too Embarrassed to Ask, is rethinking "any experience with sight and sound."