AR has inherited all the promise and hype of VR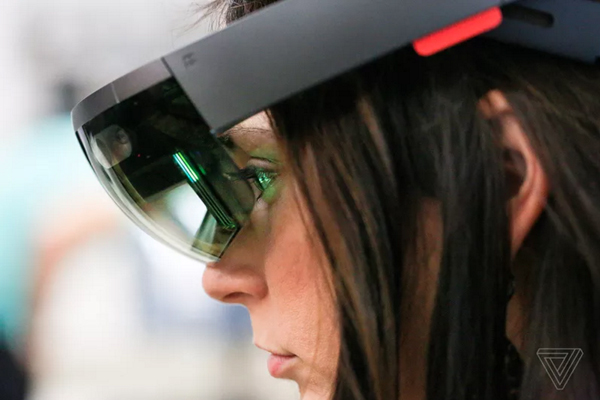 "My own view is that augmented reality is the larger of the two, probably by far," said Apple CEO Tim Cook in an interview in September 2016. Last year, Cook followed up those comments with even more confidence, coyly commenting on the company's own rumored AR device. "I regard it [AR] as a big idea, like the smartphone. The smartphone is for everyone. We don't have to think the iPhone is about a certain demographic or country or vertical market. It's for everyone," he said at the time. "I think AR is that big. It's huge. I get excited because of the things that could be done that could improve a lot of lives. And be entertaining."

As a result, we're starting to see the industry shift its resources and the built-in momentum of a hyped-up new product category toward heads-up displays. In combination with advancements in computer vision, which seeks to give software the ability to see and understand our surroundings using cameras, sensors, and artificial intelligence, AR now feels poised to take off.

The renewed interest in AR was abundantly clear at this year's CES, which took place in Las Vegas and featured all manner of smart glasses, production-ready heads-up displays, and bulky and impractical helmets. The full spectrum of AR was present on the floor of the show's many gadget expos and booth halls, making it easy to see the parallels today with the VR of five years ago. VR these days has largely retreated into the background, with commercial products from three big consumer brands that have set a high bar and brushed away many of the subpar competitors and hopeful but impractical prototypes. In VR's place, however, AR has taken up the mantle of the exciting new category we once reserved only for science fiction.


LINK

Next >

---
Forget product placement: now advertisers can buy storylines
Advertiser-funded programming is an important source of money for broadcasters, but could advertiser-funded dialogue be the next step? Last week saw a groundbreaking attempt to blend advertising and editorial in an episode of the hit US sitcom Black-ish, which involved consumer goods firm Procter & Gamble paying for a plotline.


VR milestones that took it from sci-fi to your living room
Until fairly recently, the dream of donning a headset and dropping into a virtual world belonged purely in the realms of science fiction. Thanks to the work of companies like Oculus, HTC, and others, that's no longer the case.


The sound effect affecting brand sales
What does your brand sound like? This was the question posed to brand marketers at the recent Digital Conference (DigiCon DX) 2017 during one of the event's breakout sessions on "How Music Correlates to Consumer Behavior."


Some talking points around music and virtual / augmented reality
There has been plenty of hype around virtual, augmented and mixed reality, often fuelled by the companies making headsets and content, but from licensing and creative standpoints, there are also plenty of unanswered questions.


Cate Blanchett: artists are being silenced
Originally a multi-screen gallery installation, the latest Cate Blanhett's project, Manifesto, was directed by German artist and filmmaker Julian Rosefeldt. The script is collaged from more than 50 artists' manifestos from the past century, and recited by 13 different Blanchetts.


Is Steven Soderbergh's new app the future of TV?
Director Steven Soderbergh—the man behind Magic Mike, The Knick, and this summer's Logan Lucky—just released the trailer for his latest project. He made it with the help of HBO, but it's not a movie or TV show. Instead, Mosaic is an interactive narrative app that will be available for free download.


Paramount Pictures launching first Virtual Reality movie theater
Paramount Pictures, in partnership with Bigscreen, is collaborating with several tech companies leading efforts in the virtual reality space — Oculus, Samsung, HTC and Microsoft, among others — to launch a first VR movie theater. A viewer puts on a VR headset and sits in a "theater" in front of a huge screen watching a movie as you would in a brick-and-mortar theater.


Now is the time for a new movie canon – chosen by women
For as long as most of us have been around, the canon – those books, plays, films and TV series anointed as the most important of their kind – has been defined by a singular commonality: most of it was created by white men.


'Erica' blurs the line between game and interactive movie
Sony's PlayStation 4 will never have the same widespread appeal as the Nintendo Wii. But it's trying, with a slew of film-like experiences including Until Dawn and Hidden Agenda. The latest example is Erica, a live-action hybrid developed by London studio Flavourworks. It's not quite a video game, but the level of control is also far beyond what classic FMV (full-motion video) titles usually offer.


The art in Artificial Intelligence: A gateway between technology and creativity
Technology and art are coming together to create something extraordinary. With emerging mediums such as virtual reality and artificial intelligence (AI), creative fields are embracing the use of intelligent systems to create immersive art experiences.


What Hollywood screenwriters are learning from Peak TV
These days, for many screenwriters, the studio system can feel like a small, small, small, small world. And Hollywood film writers — along with everyone else — have noticed a simultaneous boom in Peak TV. Which means that, for Hollywood screenwriters, even as studio slates shrink and become more attuned to event blockbusters, opportunity on the small screen abounds.


Michael Caine on how the 1960s broke class barriers
As My Generation, his new documentary on a decade of cultural upheaval, opens, veteran actor Michael Caine explains why the era was the making of so many British greats.


Group Nine Media creates new team to make shows for Facebook, Snapchat
Group Nine Media, a Discovery-backed holding company that oversees digital publishers NowThis, Thrillist, The Dodo and Seeker, is creating a new content team focused exclusively on making shows for social platforms.


How big tech became the new titan of television
In Hollywood, the screenwriter William Goldman once observed, nobody knows anything. But that was before technology companies rolled in sure of one thing: to conquer television you have to spend, spend, spend.


Meet the artists using virtual reality as their canvas
Standing in the pristine Gazelli Art House, an art space on Dover Street in Mayfair, London, it might seem that the future is already here. There are no canvases, photographs or pieces of art hung up on the gallery's white walls. Instead, there are four white headsets and sleek controllers that wouldn't look out of place at a video game convention.


Return of the B-movie: why big-budget flops could be good for cinema
For Hollywood, summer has been a disaster movie. The likes of King Arthur and Cars 3 crashed at the box office – but could they pave the way for a 'second feature' renaissance?


If VR is film's next big thing, how long will it take to get right?
"Let's raise a glass to risk-taking," says festival director Amanda Duthie, addressing the glitchy elephant in the room. And indeed, in the context of film festival programming, that is not a bad thing to drink to: perhaps glitches are the price you pay for bold and interesting programming, of the technology-reliant kind.


Virtual Reality and journalistic ethics: where are the lines?
Imagine if you could spend a morning climbing a skyscraper, running with the bulls in Spain, or even walking on Pluto. As news outlets experiment with immersive content like virtual reality and 360-degree video, a smartphone and simple cardboard headset can make that happen.


The constantly evolving Korean film industry: Web Content
As online and mobile platforms are becoming the norm, the Korean entertainment content industry is in the midst of expanding from web dramas to web movies. Mobile video is no longer simply about showcasing short films, with 10-20 min-long web movies specifically developed for mobile content users becoming the new trend.