BBC Blue Planet II in Row over Plastic Ducks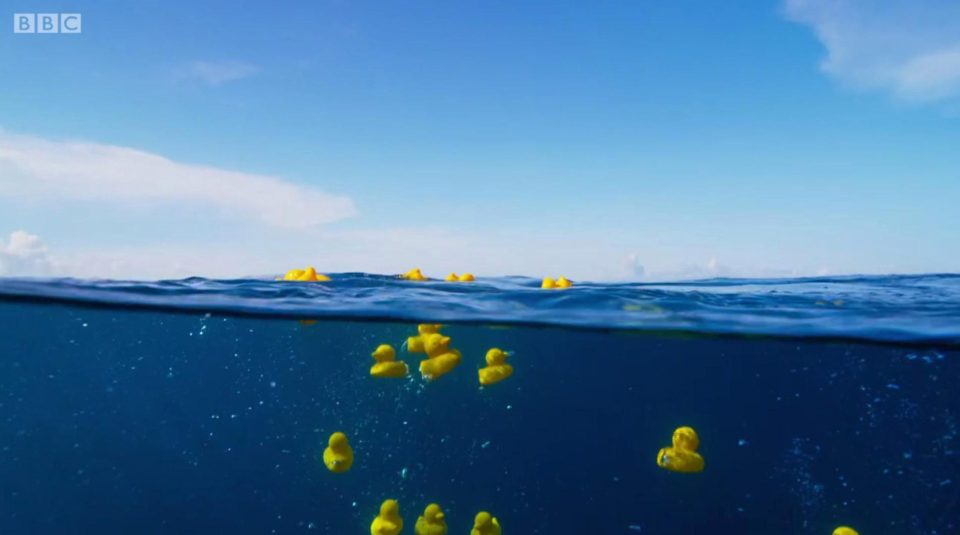 The outstanding natural history series Blue Planet II has washed into a controversy over "recreated" footage. In 1992 a consignment of 7000 plastic bath toy ducks was washed overboard from a ship, and the ducks floated all over the world. This point about plastic pollution is now sunk in a debate about whether this is "fake" footage.

Due to sea currents and the phenomenon of plastic persisting for hundreds of years, the ducks drifted across the planet's oceans and wound up in Australia, Alaska, Scotland and the Arctic.

But viewers took to social media to complain the filmmakers had created the impression they spent months hunting down the ducks.

A Blue Planet II filmmaker later admitted the ducks had been planted in the sea for the show. Sarah Conner revealed the truth about the scenes on Twitter, writing: "Picked up all 250 ducks after filming them."

A BBC source said: "We've been very open online about the fact these scenes were filmed to illustrate a point."

It does seem to breach the BBC's Natural History guidelines, that reconstructed footage should be either labelled, or differentiated from the rest of the programme:

"Reconstruction is a legitimate story telling device where single events based on corroborated personal testimony are re-enacted. It is a technique that should normally be labelled. Reconstruction is normally used when people or animals are involved and when the cameras were not present at the original event. If unlabelled, reconstructions should be differentiated in some way from the visual style of the rest of the programme such as using slow motion or black and white images in a consistent and repeated way."

Website: http://www.bbc.co.uk/programmes/p04tjbtx

Next >

---
Shocking Malnourished Lion Footage From Bangladesh Zoo
The Mirror has shown unpleasant footage of an elderly lion, kept in a bare, concrete cage in Bangladesh, apparently starving and emaciated. The 18 year old lion, called  Juboraj, lives in Comilla Zoo in Dhaka, Bangladesh and video shows him limping around his confinement, ribcage and spine clearly visible.


Over Earth - Amazing Spacewalk Footage Captured with GoPro
NASA astronaut Randy Bresnik used a GoPro camera to capture footage of Earth and the International Space Station during a spacewalk on October 20th, 2017. Footage just released on YouTube shows spacewalking astronauts installing new cameras and repairing parts of space station including the robotic arm.


Bali Volcano Footage - Mount Agung Erupts
A volcano on the Indonesian island of Bali is rumbling and spewing smoke up to 3,000 metres into the sky. Authorities have ordered mass evacuations from areas near it. This disaster could endanger thousands of people as volcanoes are notoriously unpredictable and can suddenly erupt, or simmer down and go back to a dormant state.


GoPro - Freediving with Tiger Sharks in 4K
Submerge yourself into an epic underwater adventure with Ocean Ramsey, Camila Jaber, and Ashleigh Baird as they free dive from fresh water caves to the vast ocean sea-floor in search of Tiger Sharks.


Reuters: How are Publishers Experimenting to meet Emerging Realities?
Video innovation is key to generating new monetary streams from content, says Nick Cohen, director of video products at Reuters, at the International Newsroom Summit about how the industry is experimenting to meet emerging realities.


News from WGBH Archives
WGBH and the Library of Congress celebrated the 50th anniversary of the historic signing of the Public Broadcasting Act of 1967 by hosting a symposium, "Preserving Public Broadcasting at 50 Years" on November 3, 2017 in Washington, DC.


ABC News VideoSource Continues Partnership with StockFootageOnline
Major news library ABC News VideoSource footage continues to be available from StockFootageOnline – the premiere portal for top video content; we welcome their ongoing partnership on the hub for the world's best footage material.


Around the World with Bridgeman - Finland
Finland celebrates 100 years of independence in 2017, and Bridgeman Images have put together a selection of film footage and stills to cover all aspects of that country, its art and lifestyle, including films and fashion.


Welcome Back Harold Lloyd from Global ImageWorks
Classic American cinema and stills from the silent era master comedian and stunt performer Harold Lloyd plus the remarkable 3-D colour photographs he took after his screen career was over.


Amazing Drone Footage over Iceland
The BBC has shown some clips from the film 'The North Awakens' by Jonathan Besler, Kevin May and Florian Gampert, with stunning aerial motion images of the fantastic landscape of this small country.


CelebrityFootage Owns The Red Carpet
Established in 1987, CelebrityFootage has high-value red-carpet and celebrity content from thirty years ago until today, which shows the impact and growth of many stars over their whole career.


Footage of the Beatles on Location for Help! to Go On Sale
Unseen footage of the Beatles filmed more than 50 years ago is to go on sale. The Fab Four were caught on camera by actor Leo McKern while on location in the Austrian Alps for the 1965 movie Help!


New Footage and Spots from Erickson Stock
The travel and lifestyle library have created new ready-made spots from their recent location shoot in Wisconsin. Stories, stunning scenery and a canoe as a vessel for your brand's message. License as is with your logo, or Erickson Stock can customise with a new script and voice-over.


More "Alien" Footage Surfaces from the Dark Web
Many people seem to believe that aliens from outer space have visited Earth. Here at StockFootageOnline we like to keep an open mind, when we are not laughing – here's some more grainy footage of a "dead alien" apparently from 1992 in Switzerland.


FremantleMedia Archive Continues Partnership with StockFootageOnline
Celebrating over 40 years of Thames Television, FremantleMedia Archive represents the best in independent television from 1960s to the present day. With a collection of millions of clips and stills, the library is a treasure trove of UK TV, and StockFootageOnline – portal to the best footage collections on the internet – is proud to continue its partnership with this major resource.


In Memory of Oddball Films' Stephen Parr
Archivist and impresario of quirky, eccentric and forgotten films, Stephen Parr died recently, at the young age of 63. This lovely little film sums him and his work in preserving material that might have been lost very well.


HOsiHO Stock Agency Creates Its Drone Operator Network In France
Nearly four years after its creation, the HOsiHO aerial stock agency broadens its offering with HOsiHO Network, its own network of local drone operators in France. Composed of experienced pilots, selected exclusively among the most active authors of the agency, and based at the four corners of France, they are able to respond to any request concerning drone shooting needs, from international customers looking for a French creative drone operator, reliable and close to the filming site.


StormStock - "A Bolt from the Blue"
A "bolt from the blue" strikes behind a departing supercell thunderstorm in King County, Texas. It is so-called because lightning like this can catch people off guard when they believe the storm has ended. StormStock are the storm and severe weather specialist footage agency.


StockFootageOnline Continues Partnership with Erickson Stock
Specialist in lifestyle, travel and business footage, Erickson Stock, who have an offering of customizable storytelling videos, have chosen to continue their partnership with the internet's most effective premium visual media portal: StockFootageOnline. We welcome their continued participation on our content hub.