Producers Library Finds Rare 1968 Footage of Robert F. Kennedy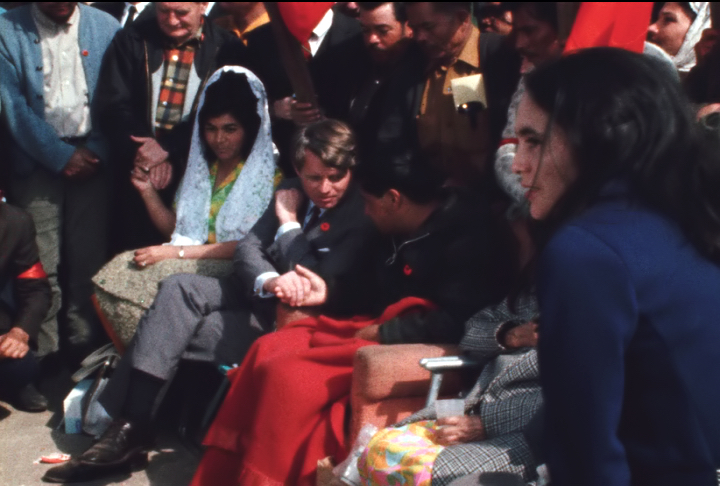 Hollywood-based Producers Library has unearthed in its vaults rare footage of Robert F. Kennedy's visits to California in 1968. The spectacular footage captures Kennedy's visit with president of the United Farm Workers (UFW), Cesar E. Chavez, along with co-founder of UFW, Dolores Huerta, when Chavez broke his 25 day long hunger strike in Delano, CA on March, 10th 1968. Among other highlights is captivating footage of Kennedy's presidential campaign visit to the Watts neighborhood of South Los Angeles in March 1968, as well as footage of his speech during the star-studded "Kennedy for President" fundraising gala at the Los Angeles Memorial Sports Arena on May 24th, 1968, just a week before his assassination.

These historic events were captured in vibrant 16mm colour, much with sync sound, and have now been scanned at 2K resolution. The newly available footage totals nearly 5,000 feet and runs over 2 hours and 15 minutes. It joins Producers Library's already existing 2 hours of RFK footage and is available immediately, coinciding with the upcoming 50th anniversary of his death.

For information on licencing, pricing and to view the clips, visit their website or contact them at research@producerslibrary.com , or phone +1 818 752 9097.

Website: www.producerslibrary.com

Next >

---
Beatles Spark the "British Invasion" in 1963
In 1963 Beatlemania took off in the USA with the group touring and having their first US hit. More British groups soon followed, including the Rolling Stones, the Kinks, and the Who. At the height of the British Invasion, in June of 1965, there were fourteen British-based songs in the U.S. Top 40.


LA 92 Wins the ABC News VideoSource Award
The National Geographic feature documentary, LA 92, directed by Daniel Lindsay and T. J. Martin, made entirely from archival footage material, won the ABC News VideoSource Award at the 2017 IDA Awards, held on December 9th, 2017. The awards celebrate documentary and non-fiction film-making.


The Election of Nixon - Approaching 50 Years from NBC Universal Archives
NBC Universal Archives has a collection celebrating and documenting the long political career of this controversial US President, elected to the highest office in 1968, nearly 50 years ago.


StormStock Image of the Month
A fuel slick spreads down Memorial Drive in Houston, Texas during Hurricane Harvey. StormStock is the world's premier storm specialist footage library, creating the most dramatic film material of severe weather, hurricanes, tornadoes, lightning and floods.


California Wildfires Blaze Out-of-Control
The brush fire continues to rage near the Brentwood neighbourhood of Los Angeles, reaching the freeway, and forcing thousands to evacuate their homes to escape the flames.


New Footage Of Possible Thylacine/Tasmanian tiger
Australian researchers set camera-traps for supposedly-extinct Tasmanian predator. Controversial footage is claimed to show this very unusual animal – which carries its young in a pouch, like the kangaroo – but is a carnivore, moving in the remote bush.


Rare Colour Footage of D-Day Emerges
Film from June 1944 of troops and ships getting ready for the invasion of Nazi-occupied France has been found. Taken in Plymouth by cameraman Jack Lieb, it shows soldiers preparing for Operation Overlord, landing craft, warships, and some lighter moments – like a ship's puppy being given its own tiny lifejacket.


BBC Blue Planet II in Row over Plastic Ducks
The outstanding natural history series Blue Planet II has washed into a controversy over "recreated" footage. In 1992 a consignment of 7000 plastic bath toy ducks was washed overboard from a ship, and the ducks floated all over the world. This point about plastic pollution is now sunk in a debate about whether this is "fake" footage.


Shocking Malnourished Lion Footage From Bangladesh Zoo
The Mirror has shown unpleasant footage of an elderly lion, kept in a bare, concrete cage in Bangladesh, apparently starving and emaciated. The 18 year old lion, called  Juboraj, lives in Comilla Zoo in Dhaka, Bangladesh and video shows him limping around his confinement, ribcage and spine clearly visible.


Over Earth - Amazing Spacewalk Footage Captured with GoPro
NASA astronaut Randy Bresnik used a GoPro camera to capture footage of Earth and the International Space Station during a spacewalk on October 20th, 2017. Footage just released on YouTube shows spacewalking astronauts installing new cameras and repairing parts of space station including the robotic arm.


Bali Volcano Footage - Mount Agung Erupts
A volcano on the Indonesian island of Bali is rumbling and spewing smoke up to 3,000 metres into the sky. Authorities have ordered mass evacuations from areas near it. This disaster could endanger thousands of people as volcanoes are notoriously unpredictable and can suddenly erupt, or simmer down and go back to a dormant state.


GoPro - Freediving with Tiger Sharks in 4K
Submerge yourself into an epic underwater adventure with Ocean Ramsey, Camila Jaber, and Ashleigh Baird as they free dive from fresh water caves to the vast ocean sea-floor in search of Tiger Sharks.


Reuters: How are Publishers Experimenting to meet Emerging Realities?
Video innovation is key to generating new monetary streams from content, says Nick Cohen, director of video products at Reuters, at the International Newsroom Summit about how the industry is experimenting to meet emerging realities.


News from WGBH Archives
WGBH and the Library of Congress celebrated the 50th anniversary of the historic signing of the Public Broadcasting Act of 1967 by hosting a symposium, "Preserving Public Broadcasting at 50 Years" on November 3, 2017 in Washington, DC.


ABC News VideoSource Continues Partnership with StockFootageOnline
Major news library ABC News VideoSource footage continues to be available from StockFootageOnline – the premiere portal for top video content; we welcome their ongoing partnership on the hub for the world's best footage material.


Around the World with Bridgeman - Finland
Finland celebrates 100 years of independence in 2017, and Bridgeman Images have put together a selection of film footage and stills to cover all aspects of that country, its art and lifestyle, including films and fashion.


Welcome Back Harold Lloyd from Global ImageWorks
Classic American cinema and stills from the silent era master comedian and stunt performer Harold Lloyd plus the remarkable 3-D colour photographs he took after his screen career was over.


Amazing Drone Footage over Iceland
The BBC has shown some clips from the film 'The North Awakens' by Jonathan Besler, Kevin May and Florian Gampert, with stunning aerial motion images of the fantastic landscape of this small country.


CelebrityFootage Owns The Red Carpet
Established in 1987, CelebrityFootage has high-value red-carpet and celebrity content from thirty years ago until today, which shows the impact and growth of many stars over their whole career.