April Image of the Month from StormStock – Tornado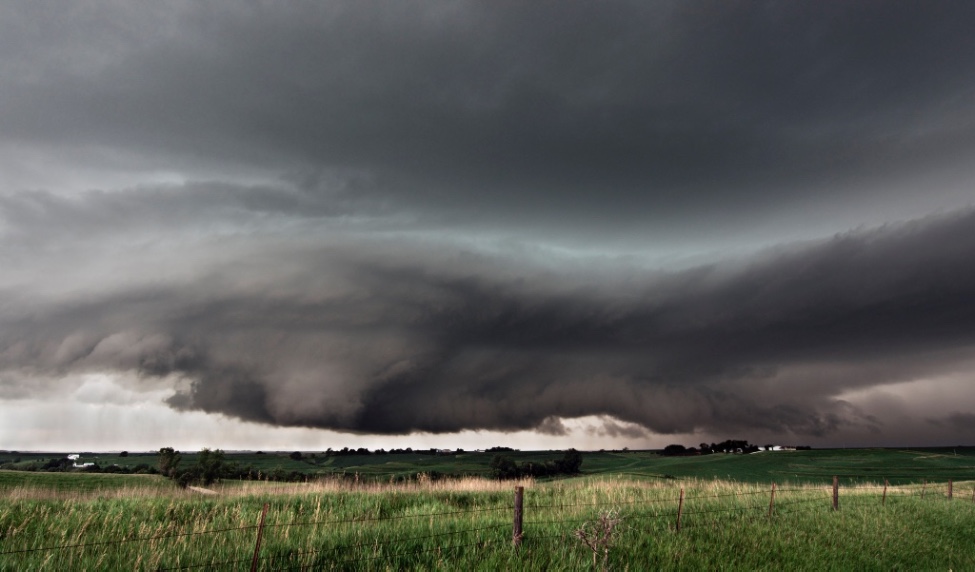 A ground-hugging, tornadic supercell drifts across Iowa farmland. This image is from the storm and severe weather specialists, who have got an amazingly comprehensive collection of film of every kind of harsh and destructive weather available for licencing.

Cinematographer: Martin Lisius

Format: Cine 4K, Red Dragon

Available for licence exclusively from StormStock.

See more on their YouTube channel:

https://www.youtube.com/user/StormStock

About StormStock: Founded in 1993 by filmmaker Martin Lisius, StormStock has provided unique and exclusive weather content for use in TV, theatrical, documentary and commercial productions. It is the "go to" source for projects that require the very highest quality material. Topics include hurricanes, storm clouds, tornadoes, lightning and more - custom produced on HD, 4K, 8K and Super 35mm.

Website: www.stormstock.com

Next >

---
Net Journal Overview Reel - Now Available from WPA
Net Journal, first broadcast between 1966 and 1970, features incredible source footage of the Civil Rights movement, the Vietnam War, the Nixon administration, New York's Spanish Harlem, life on Native American reservations, and much more from this revolutionary time in American and world history.


Beach-goer Captures Footage of Sunken Civil War-Era US Ship
Brent Garlington was on holiday when he spotted a sunken wreck. He able to capture this footage of the partially-submerged ship using a drone. It is thought to be a Confederate blockade-runner sunk by Union naval forces.


New Hail Screener from StormStock
StormStock founder and CEO Martin Lisius has put together a short screener to show off some of the collection's hail footage. "Hail doesn't get the attention hurricanes and tornadoes do," says Lisius. "But, it has a significant impact on people's lives causing billions of dollars in losses every year". The new video shows hail doing its dirty work, with stones up to baseball size, and even rare "brain hail."


FremantleMedia Archive Digitises The Iconic Thames TV Catalogue
To celebrate 50 years since the launch of Thames Television, FremantleMedia Archive is delving into their collection and making thousands of classic and limited clips available digitally for the first time since broadcast.


Baffling Footage Emerges of Elephant "Smoking"
The Guardian has published strange film of an elephant blowing ash, which has baffled wildlife experts, who say they've never seen behaviour like it before. The video released by the Wildlife Conservation Society may be an example of zoopharmacognosy, animal self-medication.


Reelin' in the Years – New Movie Star Interviews Uncovered
RITY has just signed a deal to represent the archives of Brian Linehan who was Canada's most beloved and respected interviewer of actors, actresses and directors.


Rare Minke Whale Footage Shot with New Underwater Camera
While testing a high definition underwater camera rig, Anthony Powell and Regina Eisert of the University of Canterbury in New Zealand shot footage of a rare Minke whale in the Ross Sea off Antarctica. This is probably the first underwater footage of a Minke in the area.


Drone Footage of a Sea of Blossoms in China
Incredible aerial footage shows China transformed into a sea of colour as blossoms spread across the south-west of the country. The stunning video shows pink and white blooms filling the landscape as springtime arrives in Asia, according to the Evening Standard.


Heartwarming Footage of the First Polar Bear Cub Born in UK for 25 years
Footage of the first polar bear born in the UK in 25 years has been caught on video in the Highland Wildlife Park in Kincraig, Scotland. The cub, born to the adult bear called Victoria in December, has remained un-named as keepers do not know its sex. The cub's first venture around the enclosure was caught on cameras set up by STV productions as part of a two year project documenting the breeding and birth of the cub.


GoPro – Irish Motorcycle Racing with Maria Costello
Maria Costello has not let anyone or anything get in the way of her dream. Racing between the hedges and keeping up with the fastest men on two wheels. Road racing is not for the faint-hearted and Maria knows the fine line between success and losing her grip on the handlebars. Follow the story of one of the fastest women in road racing pushing to follow her dreams to compete in a male-dominated sport.


Pop Culture and The Music That Moves Us from Global ImageWorks
Still have that walkman? Yeah, me too. What about that old 33" record? Yup, same here! Saddle-shoes? Nah, but for all the fads you may have gone through, GIW has them kept for posterity...and embarrassment.


Only a Week Left to Enter Wildscreen Panda Awards
There's just one week left to submit your film into the 2018 Panda Awards competition - don't miss out on your chance to be part of the world's most prestigious natural world storytelling competition!


Google Founder Tests Robot Flying Taxi
Two-person, 110mph electric craft made by Google co-founder's drone company begins regulatory approval process in New Zealand, with plans to put it on the market in three years, according to the Guardian.


Reelin' in the Years Legendary Collection of Entertainment
Their archive contains over 20,000 hours of music footage spanning 90 years and more than 7,000 hours of in-depth interviews with the 20th-century's icons of Film and Television, Politics, Comedy, Literature, Art, Science, Fashion and Sports, filmed between 1962-2012.


HOsiHO adds UK Aerial Stock Collections
The outstanding French Aerial and Drone footage collection has added some new UK clips to its comprehensive visions of landacape and urban areas. The places filmed include:Windsor Castle, London by night from a helicopter, Canary Wharf and Brighton.


Underwater Footage of Sunken Aircraft Carrier USS Lexington
Wreckage from the USS Lexington, an aircraft carrier that was sunk in a battle with the Japanese during the Second World War, has been found in the Coral Sea by a search team led by the Microsoft co-founder Paul Allen.


IWM Upgrades its Film Website
The world-renowned Imperial War Museum has a new iteration of its website, using the Imagen Enterprise Video Platform as its engine. The new IWM Film site is designed for the needs of commercial researchers, featuring improved facilities to assist media professionals search, retrieve and download clips more effectively.


StormStock Image of the Month – Hurricane Harvey
A lone rescue boat heads out to search a flooded neighbourhood, Hurricane Harvey, August 2017. Harvey ties with Katrina as the most devastating severe weather event to hit the USA, flooding whole areas of the Houston, Texas, region. Specialists in extreme weather StormStock have stills and footage of this terrible natural disaster.


NatureFootage Features the Komodo Dragon
The largest venomous reptile on the planet, Komodo dragon (Varanus komodoensis) is the biggest of all monitor lizards and a powerful hunter. NatureFootage has some impressive content of this huge carnivore swimming and mating.