1968 - Making Strides with Global ImageWorks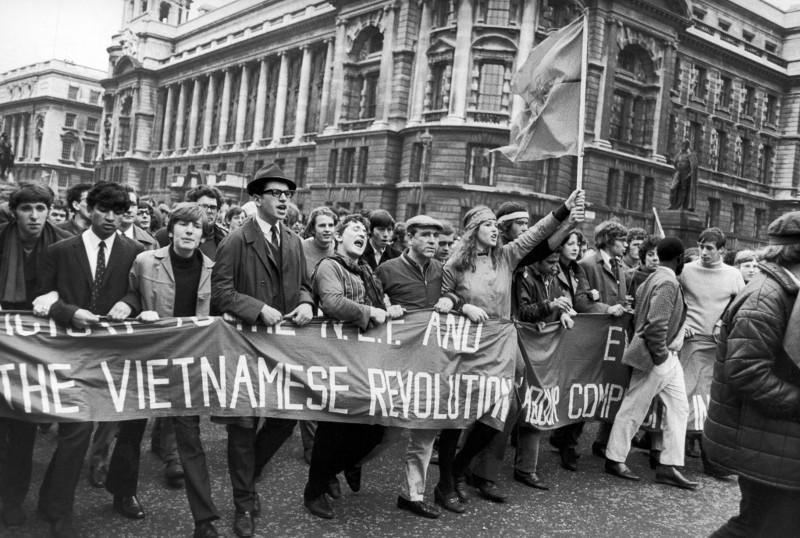 1968 was a year of seismic social and political change. Vietnam became the first televised war; revolutions developed throughout Europe; and famine struck Africa. The Summer of Love turned sour and the world shifted.

The United States reeled from the assassinations of Martin Luther King Jr. and Robert F. Kennedy, increasing civil rights protests and the rise of the Black Power Movement.

The sci-fi series Star Trek broadcast America's first televised interracial kiss between Nichelle Nichols and William Shatner, further pushing the racial boundaries that divided the nation.

The year ended with notable strides that not only rocked the nation, but helped transform the world.

Click here to see 1969-1970 through the eyes of a lens.

Global ImageWorks has stills and footage of this momentous year, and is offering a 25% discount coupon, use the code SUMMER18 at the checkout (excludes premium collections).

Website: www.globalimageworks.com

Next >

---
New aerial and drone footage on HOsiHO.com
Today HOsiHO, the France-based aerial stock footage specialist shares a clip from Cusco, Peru shot by Damian Kwasnik. Aerial view of Pachacuti, 9th king Sapa Inca, Statue at Plaza de Armas.


FOCAL International Awards Event – Tickets Selling Fast
Footage sector professionals have the opportunity to book a seat or table at the fifteenth FOCAL International Awards on 14th June. Join friends and colleagues at this unique industry celebration, held at The Troxy, London and hosted by comedian Hardeep Singh-Kohli.


Messages from the Masters – Expert Archive Producers Seminar
The fourth seminar of the day from footageMarketplace is a panel of three highly-renowned producers and researchers. If you need to find out insider information to create great work, these are the people to help you: Miriam Walsh, Sam Dwyer and Paul Gardner.


Google Sneakily Uses Unlicenced Footage in Weird Internal Video
In 2016 Google made a 9 minute "Concept Video" called The Selfish Ledger for internal distribution and discussion, a strange science fiction type film about who possesses data and how it can be used to reshape humanity. The video shows how an AI could decide to find out more about your data and pro-actively push you toward goals it sets.


StormStock's Spectacular New Lightning Video Will Electrify You
StormStock founder Martin Lisius has just created a short video featuring some of his incredible thunderstorm footage. Lisius shot the material on 4, 5 and 6K while on location in "Tornado Alley." When asked if he is ever scared shooting storms, Lisius said, "No, never. I'm more concerned about 'missing' a storm."


What Links These Footage Companies?
20/20 Software - M6VideoBank - Pond5 - Science Photo Library - CNN Collection - Fremantle Media Archive? They are some of the top companies exhibiting at the networking event of the year: footageMarketplace 13th June 2018 at 195 Piccadilly, the home of BAFTA.


Smarter Rights for Future Distribution Channels
"The future is already here – it's just not evenly distributed." Science Fiction writer William Gibson's famous comment from The Economist in 2003 appears more relevant than ever ... Although prediction can be tricky, Rights Consultant Ben Green offers some experienced insight about securing rights which are fit for the future . Register now for this seminar at footageMarketplace on the 13th June.


IBM's AI Integrates Shutterstock Images and Videos
IBM's Watson Content Hub customers to gain access to millions of images, videos and music tracks, as well as Shutterstock editor and computer-vision powered search.


Lovely Drone Photography of Dolphins off North Wales Coast
Electronics shop manager Andrew Huddlestone from Abersoch, recorded the drone footage when he took his boat out near Saint Tudwal's Island across the bay from Harlech in North Wales. The film shows what is believed to be the UK's largest pod of bottlenose dolphins.


Focal International Breakfast with the Archives Event Features StudioCanal
Are you a researcher, producer or director searching for captivating content for your next creative project? Come and join the third event in FOCAL International's Breakfast with the Archives series and meet the team from StudioCanal while enjoying a tea, coffee and a breakfast pastry.


How to Buy and Use Footage - By Those Who Do
FootageMarketplace introduces second workshop - outstanding Expert Panellists Ed Cook – STALKR. Joanna Ludwisiak – Sky News. Massimo Moretti – StudioCanal. - 11.00 to 11.45 Wed 13th June 2018


HOsiHO Releases New Showreel
The France-based aerial images specialist has released a spectacular new promo video, featuring some of their best clips from around the world, generated on HD or 4K video and ready to use for either corporate, advertising or editorial productions.


Deep In The Country!
Reelin' In The Years Productions holds footage from some of the best country music artists of all time, because they represent Nashville-based Jim Owens Entertainment, with over 8000 hours of country music programming. See some great artists in action onstage.


Amazing Time Lapse of Hawaii Volcano Lava Consuming Car
Time Lapse of giant lava flow consuming car, telephone pole falling, at Leilani Estates in Hawaii, where the Kilauea volcano has caused havoc and destroyed many homes.


StormStock Publishes Rare Tornado Footage
Producer, director and cinematographer Martin Lisius is well known for his unique storm footage. In 1993, he created StormStock, a collection of hurricanes, tornadoes, storm clouds, and lightning captured on film and video. It has become the "go to" weather footage source for high-end TV commercials, feature films and other media productions.


May Image of the Month from StormStock
This month's picture from the severe weather and storm specialist footage library is a wind farm beneath a severe storm, Vega, Texas. They have material of the highest quality, shot on 4K and other formats. Available for licence exclusively from StormStock.


Screenocean Adds Two New Iconic Collections
The Video Pool and Moments in History have been added to Screenocean's eclectic library. The Video Pool is an extensive assortment of access-only music videos, spanning more than 30 years, from 80s pop to 90s hip-hop and much more. The Moments in History iconic collection brings to life the most significant stories of the 20th Century in superb HD.


Elizabeth Klinck, Internationally Renowned Researcher, Opens footageMarketplace Seminars
Elizabeth Klinck is one of the industry's outstanding researchers, with an extensive career as producer, researcher and clearance specialist on numerous North American, UK, European and international documentary films that have garnered Emmy, FOCAL, Peabody and Oscar awards.


Hawaii Volcano Eruption Footage
The video was captured by the U.S. Geological Survey (USGS) Hawaiian Volcano Observatory (HVO) on April 25th. The Kilauea volcano is erupting and powerful time-lapse footage of the lava lake overflow shines against the darkness.