New New New Corporation and NHNZ say Cheers to Beers for Bears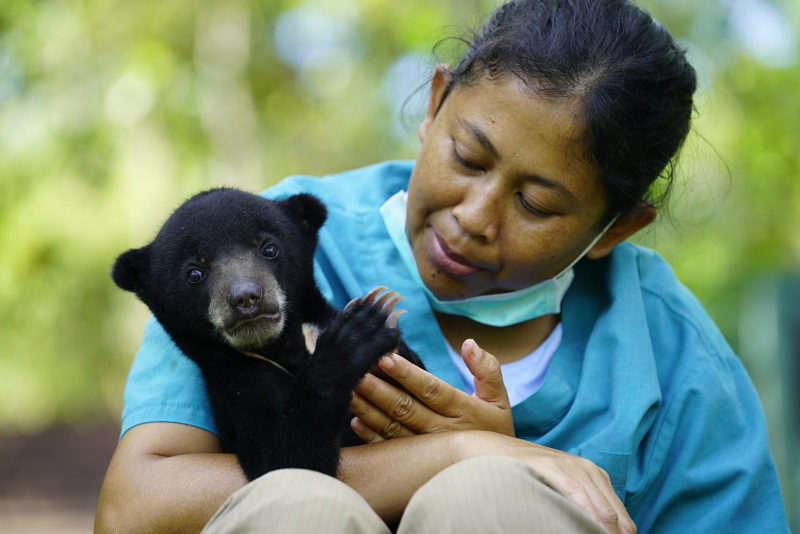 Dunedin-based New New New Corporation (Fermented Beverage Division) and NHNZ's Wild Studios are collaborating on a bold new online video and fundraising initiative; brewing beer to help threatened sun bears. This innovative project will help to support the Sun Bear Outreach charity in Borneo.

NHNZ's short-form division, Wild Studios, is creating a web series to showcase how New New New (NNN) is crafting an American brown ale in the sun bears' name. A portion of the proceeds from every beer sold will be donated toward Sun Bear Outreach. Wild Studios' online webisodes will delve into the fascinating process of brewing beer and celebrate the people coming together to support the cause, including a launch party on Friday 2nd November, 2018.

NHNZ became aware of the sun bears' plight while filming an upcoming series, Orangutan Jungle School, at the Borneo Orangutan Survival Foundation (BOSF) Rescue and Rehabilitation Centre. While BOSF and the NHNZ film crew's work focused on orangutans, the arrival of an orphaned sun bear cub, named Denny Bear, uncovered the struggles that this vulnerable species also faces in order to survive in the wilds of Borneo.

BOSF cares for 16 sun bears at their existing facility. However, ideally the bears would be cared for at a sanctuary dedicated solely to sun bears. Fortunately such a place does now exist, called Sun Bear Outreach. Transporting the sun bears from Central Kalimantan to Sun Bear Outreach in East Kalimantan is expensive. This is the motivation behind NHNZ and New New New's fundraiser; to support the transport of these precious bears, expand the Sun Bear Outreach facility and spread awareness about sun bears. These bears require sanctuaries due to the destruction of their habitat, including large-scale deforestation for palm oil plantations. Sun bears are classified by the IUCN as Vulnerable.

"NHNZ created the Wild Studios division to help use our award-winning production skills to promote awareness of true stories that are important to us. Once the seed of the 'Beers for Bears' idea was planted, the collaboration with New New New really took off. We are excited to taste the finished product, but even more excited to see the positive impacts of this online video and fundraising campaign for the sun bears," says NHNZ Managing Director, Kyle Murdoch.

Close connections with NHNZ meant collaborating on a fundraising beer was quickly embraced. "After a couple of small batches were taste-tested and tweaked, the Sun Bear brew was born, in the form of an American brown ale, and with the label design in the conceptual stages, NNN is preparing to release a very delicious beer with a mission. Not just a superior product, but a way of raising both awareness and funds for the rescue and rehabilitation of sun bears in Indonesia," explains New New New's Dallas Synnott.

Image: Denny Bear with Yati, Head Vet at BOSF Nyaru Menteng. Photographer credit: Braydon Moloney.

Website: nhnz.tv

Next >

---
Screenocean features Armistice Day from their Reuters Collection
This November marks the 100th anniversary of the Armistice in 1918, as the nation remembers the bravery of the men and women who fought, and what they fought for. To commemorate the generation that gave so much to secure victory, Screenocean's latest showreel from the Reuters Archive takes a look at how the occasion was celebrated all those years ago.


Latest Showreel from NaturePL - British Wildlife in Action
The latest video showreel from the world-renowned nature specialist library features a variety of action footage of British wildlife through the year, including boxing hares, courting grebes, diving kingfishers and leaping squirrels.


Breakfast with the Archives - 5th September
ScreenOcean have teamed up with FOCAL International to reveal some of the hidden gems from their collections. Join them from 9.00 - 11.00 on 5th September at Drink, Shop, Do, Kings Cross, to meet the team over coffee and pastries.


ACSIL West Coast Footage Meet-Up October 20th
ACSIL are running a meetup event for footage libraries and buyers in LA the day before the DMLA 2018 Conference. This is an opportunity to meet, network and interact with top audio-visual researchers and documentary filmmakers from the Los Angeles production community.


Serene NASA Moon Footage – Edited to Clair de Lune
A beautiful evocation of the moon, using pictures from the Lunar Reconnaisance Observer (LRO) by NASA, put to Claude Debussy's best-known composition, Clair de Lune (Moonlight in French) as part of a celebration of NASA's 60th anniversary.


Aretha Franklin – Queen of Soul from WPA Film Library
The world mourns the death of the Queen of Soul. Aretha Franklin has passed away at the age of 76.


Kicking Down the Walls at FootageBank
Building-work is happening at FootageBank. No, they are not constructing a new archive, but creating a hand-crafted e-commerce website!


Scenes of Cultural Unrest in the 1950s at Producers Library
Producers Library now presents brand new 2K film scans of striking footage portraying cultural unrest in 1950s California, continuing Producers Library's history of supplying unique images of the past.


IWM Preserves WW1 Footage Found in Shed
Rare film of female munitions workers in Chilwell shell factory found in a shed seen for the first time in 100 years, after extensive work by Imperial War Museum preservation team.


Journeyman Footage – Cutting-edge Documentaries
Big In Japan is the story of an ordinary Aussie who goes in search of fame in Japan, which has an obsession with foreign "talents" with a limitless appetite for spectacle and humiliation, Dave goes with two friends to seek success in Japan.


Classic Rock Music with Red Skelton Hour
For the past six years, Reelin' In The Years Productions (RITY), the world's largest music footage library, has been proud to exclusively represent for licensing all of the music footage from the classic television program The Red Skelton Hour, which aired on CBS from 1962 – 1970. This footage is unique in that the music performances haven't been seen since the program was originally broadcast.


BBC Shows Footage of Stolen Aircraft Doing Stunts
An airline employee stole an empty passenger aircraft from Seattle Airport and flew it around before fatally crashing. Footage from people on the ground shows the plane flying overhead, pursued by two military jets, and doing some stunts, while the man talks to air traffic control.


The 2007-2008 Financial Crisis – NBC Footage Collection
The cataclysmic event which began the 2007/8 recession, started in the USA with the crash of the subprime mortgage bubble in 2007. Predatory lending, fraudulent underwriting practices, and excessive risk-taking by financial institutions, increased the debt and escalated into a full-blown banking crisis. NBCNewsArchivesXpress has compiled a collection of footage.


Mendocino Complex Fire – Guardian Footage
Aerial footage shows scale of California's biggest ever blaze, which has ravaged the state, in a fire which shows the way that climate change is going to cause huge problems for already-dry places as globally this is one of the hottest summers on record. Report by the Guardian.


Drone Video Shows Ancient Pompeii Excavation Expanse
The once-lost Roman city of Pompeii, destroyed in the AD79 eruption of Mount Vesuvius, and buried under 4-6m of volcanic ash and dust, has been thoroughly excavated. Here is a drone video that shows how large the place was.


StormStock – Underwater Texas Hurricane Harvey
The specialist tornado and severe weather agency shows one of the images from its collection of the devastating effect of Hurricane Harvey a year ago in August 2017.


Truk Lagoon – Beautiful Footage
Truk Island in the South Pacific was the scene of a huge battle between the US Fleet and the Imperial Japanese forces in 1944. The sunken wrecks of ships and aircraft have proved to be a beautiful haven for sea flora and wildlife.


Camera Trap Footage of Rare Sumatran Tiger and Cubs from WWF
Some excellent camera trap footage which captured sightings of a female Sumatran tiger mating and roaming with her four cubs in a remote forest in Indonesia highlights the need to conserve forests so that rare and endangered species can live and breed naturally.


StormStock Offers Spectacular 'Harry Potter' Clouds by Martin Lisius
Cinematographer Martin Lisius has shot and assembled a collection of incredibly dramatic clouds for StormStock in a short screener titled, "Harry Potter Clouds."