Getty Images to be Fully Controlled by the Getty Family Once Again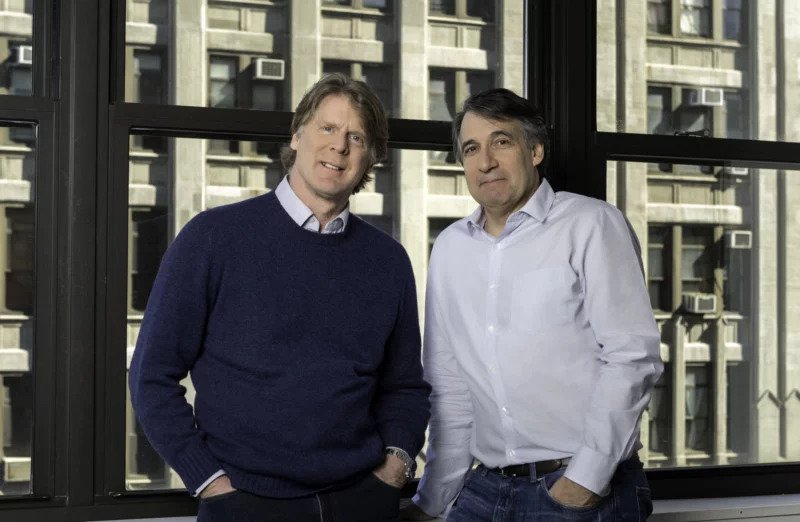 The stock photo powerhouse Getty Images is now once again owned by the Getty family from which it received its name. The company announced that the family has acquired a majority stake in the company and will take full control.

Getty Images was founded in 1997 by family member Mark Getty and CEO Jonathan Klein after the duo merged their company (Getty Communications) with a company called PhotoDisc. After a decade of strong growth in the stock photo industry, Getty Images was acquired in 2008 for $2.4 billion by the private equity firm Hellman & Friedman. Four years later, Hellman & Friedman put the company up for sale and ended up selling it for $3.3 billion to the private equity firm The Carlyle Group in 2012.

Image: Mark Getty (left) and Jonathan Klein (right), Getty Images Chairman and Deputy Chairman of the Board. Photo by Getty Images.

Now the company is being bought back by the Getty family, completing its full circle. The family is acquiring all of Carlyle's ownership in Getty Images in exchange for cash as well as "ongoing financial interest in the future growth" of the company.

"The Getty family is thrilled to resume control of Getty Images, a business that bears our name and one we strongly believe in," says Mark Getty, who led the transaction on the family's behalf. "Getty Images is one of the world's great media brands and the company has delivered a significant repositioning in the past few years, investing in its products and people to capitalise on favourable sector dynamics and build on its industry-leading position."

The financial terms of the deal were not disclosed, but the transaction is expected to be completed by the third quarter of 2018.

Website: www.gettyimages.com

Next >

---
Vimeo Stock Launches
The rival to Youtube, Vimeo, unveils a stock footage library, launching today. Featuring exclusive footage from iconic creators, and handpicked, royalty-free stock footage you can't find anywhere else, with special savings for Vimeo members.


Image of the Month from Stormstock – Hurricane Matthew
Boats are tossed against a marina wall as the western eye wall of Hurricane Matthew passes over Daytona Beach, Florida.


Triple Value from Global ImageWorks
GIW's library includes exceptional footage, their Photo Collection contains over 180,000 historic and contemporary images, and they can also assist with your audio-visual research and/or music clearances.


WPA Film Library Celebrates the End of WW2 - V-J Day
Newly-discovered gem within WPA's archives: V-J Day celebrations on Hollywood Boulevard - the end of WW2 with the surrender of Japan. This colour footage shows young men and women in the streets and travelling in convertible cars celebrating in the street the end of the war.


New New New Corporation and NHNZ say Cheers to Beers for Bears
Dunedin-based New New New Corporation (Fermented Beverage Division) and NHNZ's Wild Studios are collaborating on a bold new online video and fundraising initiative; brewing beer to help threatened sun bears. This innovative project will help to support the Sun Bear Outreach charity in Borneo.


Screenocean features Armistice Day from their Reuters Collection
This November marks the 100th anniversary of the Armistice in 1918, as the nation remembers the bravery of the men and women who fought, and what they fought for. To commemorate the generation that gave so much to secure victory, Screenocean's latest showreel from the Reuters Archive takes a look at how the occasion was celebrated all those years ago.


Latest Showreel from NaturePL - British Wildlife in Action
The latest video showreel from the world-renowned nature specialist library features a variety of action footage of British wildlife through the year, including boxing hares, courting grebes, diving kingfishers and leaping squirrels.


Breakfast with the Archives - 5th September
ScreenOcean have teamed up with FOCAL International to reveal some of the hidden gems from their collections. Join them from 9.00 - 11.00 on 5th September at Drink, Shop, Do, Kings Cross, to meet the team over coffee and pastries.


ACSIL West Coast Footage Meet-Up October 20th
ACSIL are running a meetup event for footage libraries and buyers in LA the day before the DMLA 2018 Conference. This is an opportunity to meet, network and interact with top audio-visual researchers and documentary filmmakers from the Los Angeles production community.


Serene NASA Moon Footage – Edited to Clair de Lune
A beautiful evocation of the moon, using pictures from the Lunar Reconnaisance Observer (LRO) by NASA, put to Claude Debussy's best-known composition, Clair de Lune (Moonlight in French) as part of a celebration of NASA's 60th anniversary.


Aretha Franklin – Queen of Soul from WPA Film Library
The world mourns the death of the Queen of Soul. Aretha Franklin has passed away at the age of 76.


Kicking Down the Walls at FootageBank
Building-work is happening at FootageBank. No, they are not constructing a new archive, but creating a hand-crafted e-commerce website!


Scenes of Cultural Unrest in the 1950s at Producers Library
Producers Library now presents brand new 2K film scans of striking footage portraying cultural unrest in 1950s California, continuing Producers Library's history of supplying unique images of the past.


IWM Preserves WW1 Footage Found in Shed
Rare film of female munitions workers in Chilwell shell factory found in a shed seen for the first time in 100 years, after extensive work by Imperial War Museum preservation team.


Journeyman Footage – Cutting-edge Documentaries
Big In Japan is the story of an ordinary Aussie who goes in search of fame in Japan, which has an obsession with foreign "talents" with a limitless appetite for spectacle and humiliation, Dave goes with two friends to seek success in Japan.


Classic Rock Music with Red Skelton Hour
For the past six years, Reelin' In The Years Productions (RITY), the world's largest music footage library, has been proud to exclusively represent for licensing all of the music footage from the classic television program The Red Skelton Hour, which aired on CBS from 1962 – 1970. This footage is unique in that the music performances haven't been seen since the program was originally broadcast.


BBC Shows Footage of Stolen Aircraft Doing Stunts
An airline employee stole an empty passenger aircraft from Seattle Airport and flew it around before fatally crashing. Footage from people on the ground shows the plane flying overhead, pursued by two military jets, and doing some stunts, while the man talks to air traffic control.


The 2007-2008 Financial Crisis – NBC Footage Collection
The cataclysmic event which began the 2007/8 recession, started in the USA with the crash of the subprime mortgage bubble in 2007. Predatory lending, fraudulent underwriting practices, and excessive risk-taking by financial institutions, increased the debt and escalated into a full-blown banking crisis. NBCNewsArchivesXpress has compiled a collection of footage.


Mendocino Complex Fire – Guardian Footage
Aerial footage shows scale of California's biggest ever blaze, which has ravaged the state, in a fire which shows the way that climate change is going to cause huge problems for already-dry places as globally this is one of the hottest summers on record. Report by the Guardian.