Huntley Film Archives Unveils New Website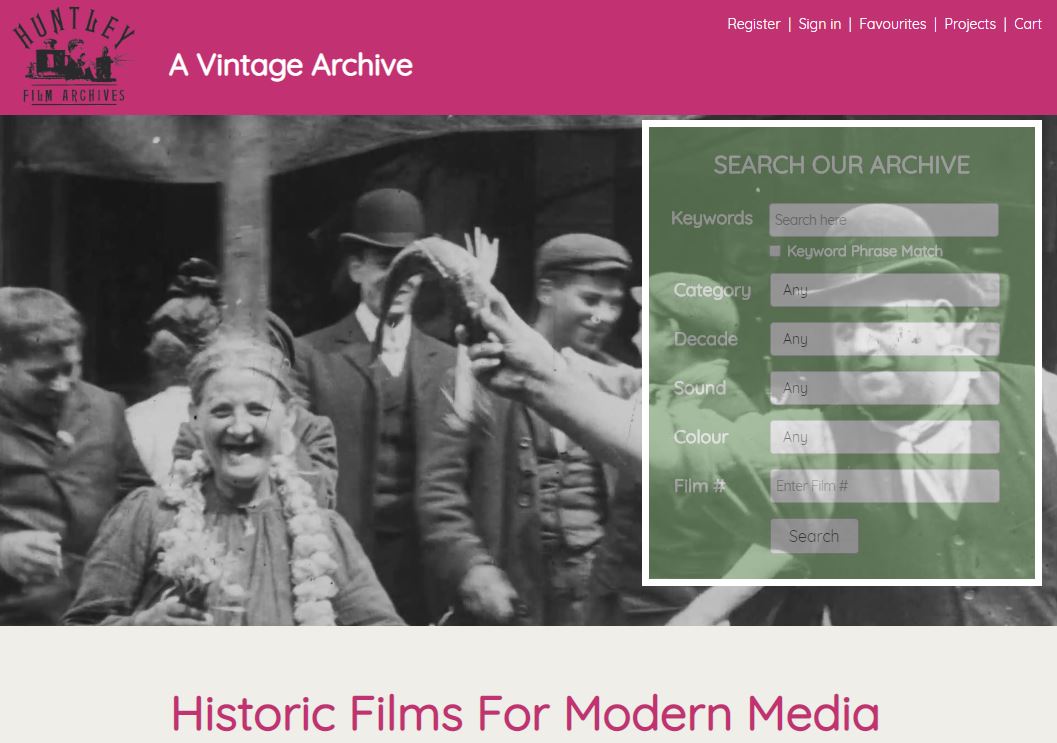 On the 12th October Huntley Film Archives launched a brand new website which will greatly improve researchers' access to their extensive archive library.

At a glance benefits include:



Thousands of films ready to download in HD broadcast quality, with more being added daily.

Creation of favourites and management of your project research via your online Huntley account.

Over 18,000 screeners available for instant FREE download.

Creation of real time clips of the seconds you want to order, using our unique time-slicing technology.

Sophisticated search facility accessible without the need to register on the website.

Secure online purchase function.

Quick links to popular collections from the Home page.

Detailed FAQ section  to guide you through the research and purchase process.

Check it out now. Register here  and start creating projects and finding your favourite footage.

Research Assistance

Their UK-based office is open weekdays from 0800 - 1800 and their expert historians are available to assist users with research, at no cost. If you require help with a current project please contact them. They will email you links for viewing applicable films which you can download as screeners in just one click.

Website: www.huntleyarchives.com

Next >

---
GoPro Releases Hero7
This is Hero7 Black, the most advanced GoPro ever. With HyperSmooth stabilisation, you get smooth, gimbal‑like video—without the gimbal. And with TimeWarp, you can capture mesmerising, stabilised time lapse video as you move through a scene.


Footage From Inside Soyuz Spacecraft Shows Crew at Moment of Failure
A Russian-American space crew have been forced to make an emergency landing in Kazakhstan after their Soyuz rocket suffered a failure shortly after launching from Russia's Baikonur cosmodrome in one of the most serious space incidents in recent years.


New World War One Film Colourises IWM Footage
Peter Jackson, best known for directing The Lord of the Rings trilogy, has created a new film using original footage from Imperial War Museums' extensive archive, much of it previously unseen, alongside BBC and IWM interviews with servicemen who fought in the conflict.


Global ImageWorks is Strong on Civil Rights
The Civil Rights Movement was a decades-long movement with the goal of securing legal rights for African Americans that other Americans already held. Global ImageWorks has stills and footage from the height of the campaign in the 1960s.


BBC Launches Short Form Content Hub
The BBC has launched a new global platform for short-form content, BBC Reel. The hub has been created by BBC Global News, an independent branch of the broadcaster supported by commercial revenue, and will feature a mix of recycled archive videos and newly commissioned content.


StormStock Films Rare "Moon Rays"
Rare, nocturnal anti-crespucular "moon rays" behind a severe storm in Kansas. Cinematographer Martin Lisius, a world expert on filming severe weather captured these unusual sky effects recently.


See INA's Wonderful Content at the ACSIL West Coast Footage Meet-Up 2018
INA will be attending the ACSIL West Coast Meet-Up 2018 in Los Angeles on Saturday, October 20th, along with other superb footage libraries.


Indonesia Tsunami - Drone Filming Shows Trail of Destruction in Palu
Aerial footage shows the extent of the damage in Palu city, Indonesia, following the earthquake and subsequent tsunami which occurred on Friday, according to film published by Time Magazine.


Unusual Footage of Tame Foxes
Wild animals are...wild. Cats, dogs, cattle, horses have been bred over thousands of years to live alongside humans. Foxes are not domesticated – see some unusual footage of an experiment in wildlife training.


Japanese Rover Sends First Video From an Asteroid
Asteroid Explorer "Hayabusa2" deployed the MINERVA-II1 rovers to explore the surface of asteroid Ryugu on 21st September 2018. They sent back stills and a short burst of colour footage from the surface of the asteroid – the first time this has been done.


WPA Shows Archive Footage of Anita Hill Misconduct Testimony
As the hearings for Supreme Court nominee Brett Kavanaugh come to halt over sexual misconduct allegations made against the judge by Christine Blasey Ford, readers are reminded of the history repeating itself 27 years earlier with the sexual harassment allegations levied against then-nominee Justice Clarence Thomas by Professor Anita Hill, and the need to take such allegations seriously.


Orson Welles Movie Restored
"The Other Side of the Wind" has been rescued from oblivion. The film, shot between 1970 and 1976 was unfinished at the time of Welles' death in 1985, and has now been restored and will premiere on Netflix on November 2nd.


New John Lennon Footage Discovered
Here we have John Lennon performing in the studio with his fellow Beatle George Harrison and the Plastic Ono Band. The song? A funked out version of "How Do You Sleep?" from Lennon's second solo album, Imagine, recorded and released in 1971.


Mountain Gorilla Chest Beating from NatureFootage
Mountain gorilla (Gorilla beringei beringei) chest beating, running past camera. These endangered creatures live in the Virunga rainforest of Rwanda, Africa.


Typhoon Mangkhut in Honkong – Terrifying Footage
Hong Kong and other areas of East Asia have suffered a pounding from the world's strongest storm this year, Typhoon Mangkhut, which has hit China, after pummelling Hong Kong and killing dozens in the Philippines.


Storm Florence – Guardian Footage Shows Scale of Flooding in North Carolina
Guardian footage shows flooding and storm damage is seen in aerial footage shot on Saturday over New Bern and Nags Head in North Carolina, USA. Though weakened, Storm Florence remains large, slow and dangerous as it swirls over North and South Carolina.


Thrilling Filming of Whales Playing in 4K
Epic drone footage of humpback whales cavorting off the resort of Umdloti Beach, on the South African East Coast, has just been posted on Youtube, showing what appears to be a mother and calf playing together in the coastal waters.


Amusing Footage Shot from a Toy Car
Somebody had the idea of attaching a GoPro Camera to a motorised toy car, then sending it down a long track while people do stunts as it races along. An amusing piece of film making. It's not often you get a POV shot from a little model vehicle.


Snow in South Africa – Drone Footage
Few people associate South Africa with snow but here is some drone footage of snowfall in the bottom and on the heights of the Sani Pass in KwaZulu-Natal, which is unusual, but not unique.