Satellite Footage Reveals Destruction Left Behind by California Wildfires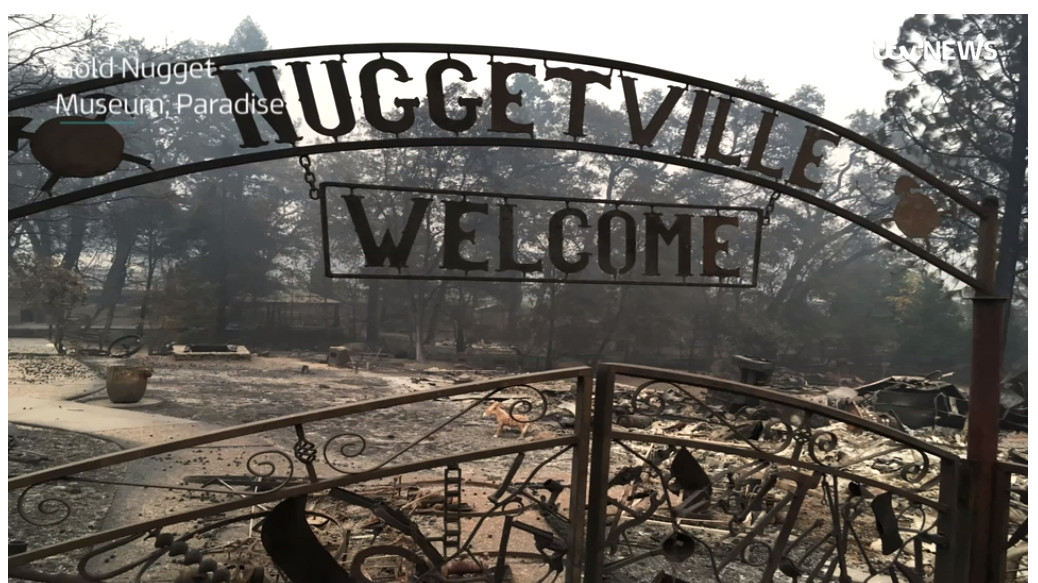 New satellite footage released by ITV showing the devastation wreaked by wildfires in northern California has been broadcast.

Aerial shots from above Paradise, one of the worst affected areas, show camps and living sites completely ravaged.It comes as authorities reported that the death toll from the fires has now climbed to 79, with around 700 people still unaccounted for.

The fires were exacerbated by climate change, which has caused the worst drought in California for hundreds of years.

Website: Satellite Footage Reveals Destruction Left Behind by California Wildfires

Next >

---
Rare Footage of the World's Most Endangered Rhino
Conservationists have released footage and photographs of the world's rarest rhino, which counts fewer than 70 members among its population and is confined to a single national park in Indonesia.


They Shall Not Grow Old - Colourised WW1 Film on Release
Peter Jackson, best known for directing The Lord of the Rings trilogy, has created a new film using original footage from Imperial War Museums' extensive archive, much of it previously unseen, alongside BBC and IWM interviews with servicemen who fought in the conflict.


StormStock First To Offer 16K Video
StormStock founder Martin Lisius continues to push the envelope of innovation by producing and offering 16K content.


MrFootage Supplies Content for Drugs Documentary
The crowd-funded documentary Magic Medicine used historical footage of 1960s and 1970s anti-war protestors to contextualise the background to hallucinogenic research.


The 2019 Focal International Awards Are Now Open for Entries
Unique in their scope and focus, the FOCAL International Awards celebrate and championing the influence and role of archives and footage in the creative industries today. 2019 marks the 16th year of the competition and FOCAL International now welcomes submissions for 2018 productions.


StormStock Image of the Month
The extreme weather and tornado specialist brings us a view of a wind farm and severe storm at sunset in Iowa, the centre of the US and an area that experiences frequent bouts of unusual weather events.


NFB Archives - Victory 1918: The Last 100 Days
The Canadian national collection is commemorating the end of World War One with films, images and footage from this terrible conflict, now 100 years ago, view them online at their site.


The Cold Blue - WW2 Documentary Made from Rediscovered Footage
Famous Hollywood director William Wyler made a film in 1943 called The Memphis Belle, about the last mission of a bomber. All of Wyler's raw footage from the various missions was recently discovered, preserved in the National Archives and a new film has been made from the material.


Newsflare Shows off British Cheese Rolling
To prove that English eccentricity is still going strong, Newsflare have posted their coverage of the Gloucester Cheese Rolling Competition – an annual event where people compete to catch a cheese!


First 8K Video from Space
Fans of science in space now can experience fast-moving footage in even higher definition as NASA and ESA (European Space Agency) deliver the first 8K ultra high definition (UHD) video of astronauts living, working and conducting research from the International Space Station.


Great Footage – Haunting Drone Flight Through Abandoned Building
A brilliant piece of GoPro drone footage through a deserted industrial complex, with a really spooky ambient sound design instead of music, which makes this a superb piece of film-making.


Pipe Bomber Suspect Caught on Film by Michael Moore
During the filming of Fahrenheit 11/9, his documentary about America in the wake of Donald Trump's election, Michael Moore's crew inadvertently shot some footage of Cesar Sayoc—the man accused last week of posting pipe bombs to prominent liberal figures like the Obamas and the Clintons. You never know what you will find in your footage.


Screenocean – Armistice Day 1918 Commemoration
The Reuters news archive is one of the world's greatest historical video collections. The entire archive dates back to 1896, preserving the events that shaped our world through film - all available through Screenocean.


20/20 Software Offers New Tools for Working with Footage
Today's buyers want a range of video from long films to short clips for social media, documentaries, and everything in between. As a provider, you must also appeal to the client who wants a specific slice, immediate download, and purchase online.


Prairie Pictures' StormStock Celebrates 25 Years of Stormy Weather
In 1993, filmmaker Martin Lisius was just completing a series of severe weather-related programmes he produced and directed for TV when he began receiving phone calls from other producers needing storm footage for their own productions. It was then that he decided to create StormStock, a collection of cinematic quality weather footage licenced for use in commercials, documentaries, and feature films worldwide.


Bridgeman Footage Breakfast – Meet Vivien Halas of Halas & Batchelor
A special opportunity awaits fans of classic animation. Bridgeman Footage are holding a footage breakfast on the 7th November, with special guest Vivien Halas, daughter of classic animators Halas & Batchelor, makers of Animal Farm, among many other outstanding productions.


The Merv Griffin Show - 25 Years of Pop Culture
The Merv Griffin Show is widely considered one of the premier daily talk shows in the history of television. Hosted by the charming and intelligent Merv Griffin, this ground-breaking show was known for in-depth interviews with celebrities and newsmakers, innovative stand-up comedy and stellar musical performances.


Mercury Space Exploration Mission Preparing for Launch
This video footage from Europe's Spaceport in Kourou shows the three BepiColombo spacecraft modules being 'stacked' in launch configuration – destination the nearest planet to the Sun: Mercury.


NatureFootage Superb Underwater Film of Bait Ball
A bait ball, or baitball, occurs when small fish swarm in a tightly packed spherical formation about a common centre. It is a last-ditch defensive measure adopted by small schooling fish when they are threatened by predators. NatureFootage has just released a clip of this phenomenon.