See How Women Travelled In 1920's America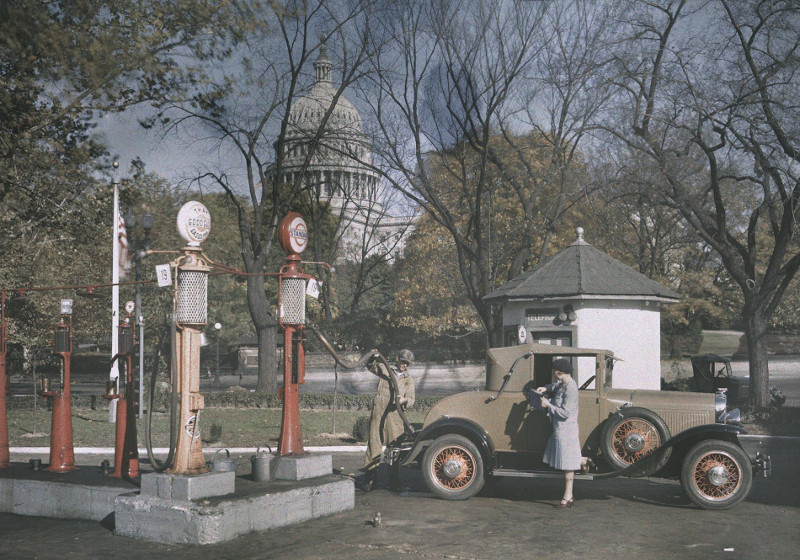 Women's Equality Day celebrates the year the US 19th Amendment gave (most) women the right to vote—but travel was often a different matter entirely, according to a National Geographic article.

That was the year many American women won the right to vote with the 19th Amendment, now remembered on August 26th as Women's Equality Day. The amendment didn't apply to all women, since Native people, Asian immigrants, and black women in the south still couldn't vote for decades. And women's safe access to travel was similarly patchy.

If you were married and travelling abroad, your husband probably had one passport that identified both of you as "Mr. John Doe and wife." That's because only unmarried women could get a passport with their birth name. If a married woman applied for her own passport to travel alone, it would still arrive in her husband's name as "Mrs. John Doe."

But really, you weren't supposed to travel alone in the first place.

"Whether she's travelling alone in the name of her husband or whether she's unmarried and traveling alone … in all situations it represents something sort of outside of the norm," says Craig Robertson, a media historian at Northwestern University and author of The Passport in America.

Despite this, there were still women who travelled alone in 1920, some of whom didn't like carrying passports in their husband's name—like journalist Ruth Hale, who founded the Lucy Stone League in 1921 to combat the issue. Four years later, the league helped writer Doris E. Fleischman became the first married woman to receive a passport in her given, or "maiden," name.

See more of this article here: Womens' travel in the USA of the 1920s

Website: www.nationalgeographic.com

Next >

---
The Prodigy - Breathe - Live at Glastonbury 2009
With the sudden and tragic suicide of their charismatic frontman Keith Flint, let's remember some of their outstanding performances, particularly at Glastonbury where they were regular performers.


Secret Nuclear Test Films Restored
Lawrence Livermore National Laboratory in the USA is working on an extensive programme of restoration of film of nuclear tests from 1945-1962, showing the power and scale of these horrific weapons.


Historic Films Discovers The Lost Woodstock
Using a then state-of-the-art Sony Portapak video camera Carl Simring filmed the whole of this legendary concert in 1969, capturing unique footage of The Who, Janis Joplin and many others.


Fake News as Video Game Footage Passed off as Indian Airstrike
Arma 2 is a popular modern war video game. Recently footage from it has been circulating, purporting to be the Indian Air Force strike in Kashmir on Tuesday 26th.


'Extinct' Tortoise Found Alive on Remote Island
A giant tortoise which was believed to have been extinct for more than 100 years has been rediscovered on a remote volcanic island, by an expedition funded by the TV Channel Animal Planet.


Apollo 11 Eye-Opening Documentary using Unseen Footage
An exceptional, vibrant restoration of never-before-seen footage from NASA of the first moon landing results in one of the most astounding films about space ever made.


Harry Birrell Presents - Films of Love and War
In the Summer of 1941, a young Scottish soldier set sail for war. He took his camera and an obsession for making movies. Now those films and his diary have been recovered, and edited into a film, narrated by Richard Madden, famous for his role as one of the Starks in Game of Thrones.


FootageBank Joins the StockFootageOnline Family
Long-established footage library FootageBank brings its excellent collection to join the StockFootageOnline hub, the premier destination for users of high quality stock and archival motion content. We welcome them to our portal.


Screenocean's Raiders of the Lost Archive
The noted archive and history specialist are featuring their Raiders of the Lost Archive series and celebrating Black History Month and looking at the momentous events from the 1960s that paved the way towards a more equal and just society.


Vancouver Aquarium's Sea Otters Play in the Snow
The Canadian aquarium hosts six rescued sea otters, who had a wonderful time messing around in the snow yesterday – they even made snowballs.


StormStock Braces for Hurricanes
Four birds brace against intense rain and wind as Hurricane Hermine approaches the Florida coast. Still from DCI 4K video shot by StormStock founder and cinematographer Martin Lisius.


Historic Films Celebrates the Civil Rights Movement in Colour
Rare footage has been located by the historic content specialist of the US Civil Rights Movement from 1963, in colour, which is very unusual for the period, as most film coverage is in monochrome.


A Hidden Trove Of Silent Home Movie Footage
Reelin' In The Years Productions has a fantastic collection of home movies of musical artists, shot at concerts or by fans, and this valuable content is available for use in documentaries and other projects.


StormStock Image from 16K Video Wins RPS Stills Competition
An image titled, "Tornadic Supercell over Goldenrod" won a stills competition hosted by the prestigious Royal Photographic Society (RPS) this week. What makes it unique is the image is actually a still pulled from the 16K short film "Prairie Wind," shot and directed by StormStock founder and cinematographer Martin Lisius.


NFB Uncovers Pioneering Animator's Personal Archive
Innovative animator extraordinaire Norman McLaren kept a treasure trove of out-takes and other material at the Canadian archive, which has recently been rediscovered and is being digitised.


The Joy of Music
Music brings people together. Music has the power to heal, create change, and can even transport you to another time and place. Whether it's footage or photographs, Global ImageWorks' music collection will inspire, entertain, and enliven your production.


SpaceX Mars Engine Test
SpaceX performed the first static fire test of a Raptor rocket engine for its Starship test flight rocket on 3rd February 2019, at SpaceX's rocket development and test facility located in McGregor, Texas.


Rare Footage of Don Shirley Playing Piano
The Green Book is a new film just released about a road trip taken by African-American pianist Don Shirley and his driver/bodyguard Tony "The Lip" Vallelonga in the 1960s, based on the book he wrote. Here is some rare footage of Don Shirley at the piano.


Erickson Stock – Stories about Seniors
Photographer and film-maker Jim Erickson describes the healing process and recovery from ankle replacement surgery and surfing with his son in a lovely short video centred on surfing.