Meet Huntley Film Archives in May at footageMarketplace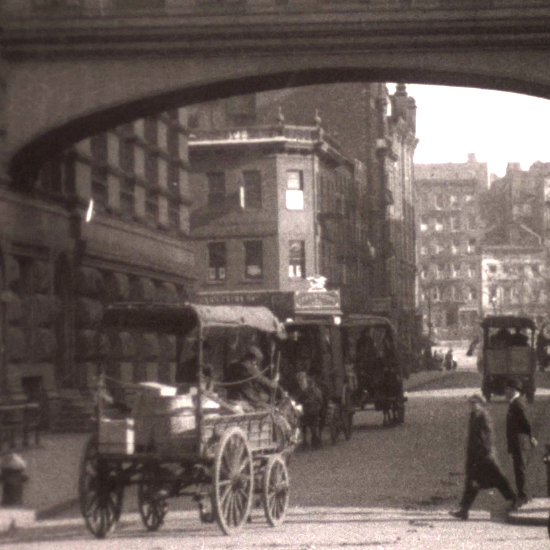 Huntley Film Archives is a documentary footage library with a collection of over 80,000 films spanning a century of worldwide historic and social change. Their collection includes some of the earliest films from the 1880s up to more recent events of the 1980s and everything in between, making them the ideal partner when you need historic content.

With the launch of their new website in October last year, much of their content is now available for immediate download in HD broadcast quality, with more footage being added every day, ensuring you receive your footage quickly. If you haven't visited their website recently take a look here or catch up on our latest trending topics and tutorials in their blog.

If you would like to discuss your archive needs in person; come and see them at footageMarketplace London on Wednesday 15th May. Huntley Film Archives are on Stand 27. If you would like to make an appointment please contact them.

footageMarketplace will take place at:
195 Piccadilly (home of BAFTA)
London W1J 9LN
from 0930 - 1630

If you haven't already arranged your free attendance you can register here.

Website: Huntley Film Archives

Next >

---
Find Out More About footageMarketplace's Seminars
Nine outstanding speakers are coming to footageMarketplace on 15th May to inform, educate and give you insights into their specialist area of the footage industry. These seminars are free, but last year were standing-room only, so you need to get there early.


LOLA Clips Flies with Eagle Vision
LOLA Clips has now added a huge catalogue into its rapidly growing slate of partnerships like ITV GE and STUDIOCANAL with EagleVision. They are a leading producer and distributor of music based documentaries and high quality live concerts, covering all genres through Jazz, Blues and Soul to Pop and Rock.


First Set of FOCAL Award Nominations Announced
FOCAL International now unveils its first set of nominations for the 16th FOCAL Awards: the world's only major awards competition dedicated to the promotion and celebration of archival footage and its contribution to the creative and cultural industries.


NaturePL Swoops into footageMarketplace on 15th May
Come and meet the nature specialists at footageMarketplace in London on May 15th and find out more about their growing video offering. footageMarketplace is the best annual event to network, communicate and deal face to face with industry players.


Meet IWM Film at footageMarketplace
One of the premier footage libraries exhibiting on 15th May at footageMarketplace will be IWM Film, showcasing their immense collection of conflict-related material, particularly of the First and Second World Wars.


A Robot Dog Dances
The advent of robots and automation may make huge changes in our lives. Here is a video from Boston Dynamics which gives you an idea of what robots are capable of – dancing to funk music!


Newsflare Shows Funniest Costumes in the London Marathon
This hilarious compilation shows the funniest costumes during the London Marathon 2019, which took place on Sunday 28th April, with over 40,000 runners participating.


The Edge of Buying and Using Footage Seminar
Check out this seminar at footageMarketplace, the UK's top stock footage industry event. This expert panel covers the inside track to buying and using footage.


Why Hippos are the Deadliest Animals!
The vegetarian Hippopotamus kills more people than lions, tigers or bears. These heavyweights may live up to 60 years, and males weigh up to 1,500 kg (3,310 lb) and 1,300 kg (2,870 lb) for females.


Bodycam Footage Shows Firefighters Battling Notre Dame Inferno
Bodycam footage released by Paris Fire Brigade has shown the heroism of firefighters who battled through the night to put out an inferno at Notre Dame cathedral.


Newly-digitised NATO Archive Footage Now Available from IWM
Following an extensive digitisation project commissioned by NATO, over 2000 titles of official footage are available for licencing via IWM Film. This project is part of an exclusive global licencing distribution partnership, marking 70 years of the political-military alliance.


GoPro - Kilian Jornet - Running Ridges Footage
Intriguing - if scary – film of extreme athlete Kilian Jornet running around the dramatic mountains of Andalsnes, Norway.


Eerie Footage Shows Deserted Mansions
North London's Billionaires' Row in Hampstead has desolate mansions with empty swimming pools, fern covered staircases and rotting decor from the 1980s, worth millions of pounds but left vacant by their absentee owners.


HOsiHO Unveils Its New Platform for 5th Anniversary
The French aerial image library is five years old, and to celebrate they have launched a new e-commerce site, and are offering a 20% discount in April.


Televisual Bulldog Awards - Voting Open
The voting for the 14th annual Televisual Bulldog Awards is underway. Have your say about the best British programmes of 2018 and you will be automatically entered into the prize draw to win some amazing prizes.


Huntley Archives Launches Blog
Huntley Archives have created a blog. Inspired by their historic collection of archive films, they have recently launched "The Voice from the Vaults", an interesting and varied blog about all things archive. Every week they will explore a different topic.


Snow Falls in Saudi Arabia
The desert kingdom experienced a rare fall of snow in its uplands, even though temperatures normally reach nearly 30 degrees at this time of year. Climate Change is creating freak weather events all over the globe.


Digging for Gold - Finding The Unfindable
World-class archive researchers reveal how to discover the needle in a haystack for that dynamite footage. Another of the inspiring free seminars at footageMarketplace 15th May session time 3.15 pm - 4.00 pm.


Lost TV Tape of Pop Group Scaffold Found
A lost TV recording of the 1960s pop and comedy act the Scaffold will be broadcast in Britain for the first time in 50 years after being discovered in Nigeria, according to the Times.