What Exactly is a Hurricane?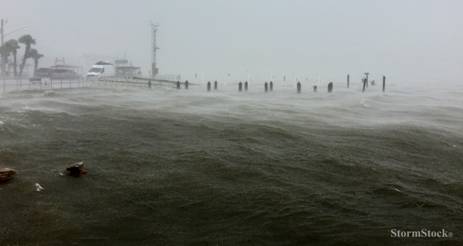 In this interesting article StormStock founder Martin Lisius explains the difference between different kinds of storms, including hurricanes, typhoons and cyclones.

By definition, a hurricane is a tropical cyclone with maximum sustained winds of 75 mph or more occurring in the Atlantic or Eastern Pacific Oceans. The strongest hurricane, a Category 5 on the Saffir-Simpson Scale, can produce sustained winds of 155 mph or greater and can cause catastrophic damage. A typhoon is a tropical cyclone with maximum sustained winds of 75 mph or more occurring in the Western Pacific Ocean.

So, what is the difference between a hurricane and a typhoon? Location. For some reason, these tropical storms are called either hurricanes (Atlantic and Eastern Pacific), or typhoons (Western Pacific), or cyclones (Indian Ocean). Physically, they are the same thing.

Hurricanes are the most powerful storms in the world. Like tornadoes, they are cyclones which are storms that spin counterclockwise. Also like tornadoes, hurricanes produce destructive winds and require warm, moist, buoyant air. Other than that, they are very different. A significant tornado requires lots of wind shear, with fast, turning winds. A hurricane, however, needs a calm atmosphere, and a big, warm ocean in which to develop. Hurricanes are much larger than tornadoes (hundreds of miles vs. hundreds of feet wide), and cause damage not only by wind, but also with storm surge and flooding rains.

The strongest winds and storm surge (rising, moving ocean) in a hurricane are near the center of the storm, often around the right track side of the eyewall. The greatest surge occurs where the most intense winds are blowing off the water perpendicular to the land, especially in bay and inlet areas where the surge is more focused.

Hurricanes are divided into three hazard categories: wind, storm surge, and flooding by rain. Hurricane Harvey (2017) made its most costly impact from flooding by rain. Katrina (2005) was a storm surge hurricane, setting records in that category. These two storms are the costliest in US history causing $125 billion in damage.

Image: Hurricane Hermine.

Another exceptional storm is Hurricane Dorian (2019) which is one of the most powerful Atlantic hurricanes ever recorded. Dorian is slowly crossing Grand Bahama Island in the Bahamas as I write this, causing catastrophic damage with storm surge and wind gusts to 220 mph (EF5 tornado intensity winds). There are few times in recorded history that an event like Dorian has occurred.
Despite excellent improvements in forecasting where and when a hurricane will occur, the impacts from these storms are expected to grow as ocean temperatures rise and populations increase in coastal regions.

Martin Lisius is a veteran storm chaser who films extreme weather for StormStock, the world's premier storm footage library. StormStock content is licenced for use in TV and film productions worldwide. View StormStock's hurricane and typhoon footage now.

Website: www.stormstock.com

Next >

---
World Gravy Wrestling Championships 2019 from Newsflare
The 12th annual World Gravy Wrestling Championships was held at the Rose 'n Bowl pub in Stacksteads in Lancashire, UK. All wrestlers are sponsored to take part in an effort to raise money for good causes.


American Factory – Culture Clash Documentary
Netflix has just premiered a new, original documentary, executive-produced by no less than Barack and Michelle Obama, about a US factory and the culture clashes between its Chinese and American workforce.


StormStock Image of the Month – Unusual Lightning
Whimsical lightning, 2019. Atmospheric conditions determine what lightning will look like. On this evening in North Texas, Mother Nature decided to have some fun.


Newsflare – Heroic Dog Saves Friend
Among Newsflare's trending videos recently was the heartwarming footage of a dog rescuing his smaller companion who was marooned on a little boat.


New Storms on 8K from StormStock
StormStock cinematographer and founder Martin Lisius just returned from the Great Plains with a batch of amazing storms he shot on 8K video.


90-Year-Old Man Celebrates Birthday with Wing Walk
Kit Braunholtz, former Gloucestershire County Councillor and green activist, found an unusual way to celebrate his birthday, by being strapped to a biplane and taking to the skies.


Dramatic Footage as Didcot Power Station Towers Demolished
Seconds after three iconic cooling towers at Didcot power station were demolished, an electricity pylon exploded showering families in sparks, in footage published by the Telegraph.


Freestyle Slackline in Japan
A jaw-dropping piece of footage of So Ueyama walking, bouncing and performing acrobatics on a slackline. It isn't death defying, only a few feet off the ground, but more than makes up for this with his display of athletic prowess.


News from NFB Archives
NFB Archives will be moving to a new premises this month. The Canadian collection is also participating in MUTEK, an electronic music festival in Montreal.


Panda Birthday Party
A cute offering from Chinese TV station CGTN, showing two giant pandas in the zoo having a birthday party, complete with a "Birthday cake".


Historic Films Archive Acquires The Best Shot Stock Footage Library
Started in Tampa Florida in the late 1980s by Peter Klein, Best Shot was a leading independent footage archive. Active during the early 2000s, Best Shot amassed footage of cultural events, locations, life-styles, travel, and much more.


Fun Footage of Runaway Ostrich
A runaway ostrich has been captured on video sprinting down busy streets in Yilong in Yunnan province, south-west China. In CCTV footage from 2nd August, the ostrich, which stands at more than two metres, was seen racing down the streets in the town.


WPA Presents the Anniversary of President Nixon's Disgrace
45 years ago, US President Richard Nixon suffered great ignominy as he became the first American president to resign his office rather than undergo impeachment.


No Other Storm Can Compare to Katrina. - Now She's on 4K
StormStock releases first 4K of Hurricane Katrina, the costliest storm in US history, ravaging the Florida region in 2005.


Landmark Events of the Early 1990s from GIW
From elections to global conflict to the dawn of the personal computer age, much of the events of the 1990s moulded our world in the new millennium, according to Global ImageWorks.


White Horse Pictures And Reelin' In The Years Productions Join Forces In A Strategic Partnership
White Horse Pictures' Chairman Nigel Sinclair and President Nicholas Ferrall alongside David Peck, President of Reelin' In The Years Productions, one of the world's leading archival footage and licencing companies, today announced a far reaching multi-picture partnership to develop and produce documentary feature film and television projects.


StormStock Sizzles with 35mm Film Collection on 4K
Spectacular storms shot on Super 35mm film are now available from StormStock on 4K from the world's premier severe weather specialist, shot with Arriflex during 1998-2008.


Strange 1960s Advertising from Huntley Film Archives
A blast from the past as Huntley digs out a bizarre advertisement for Jeno's Pizza Rolls. Just one of their many ads from the vaults.


HOsiHO Summer Sale!
15% off all summer on their aerial stock footage and stills. The French aerial footage specialist has a large range of content shot with aircraft and drones and offers specialist commissioned filming to deliver the exact content you need.