Historic Films acquires Rare 1907 35mm Nitrate Film of New York City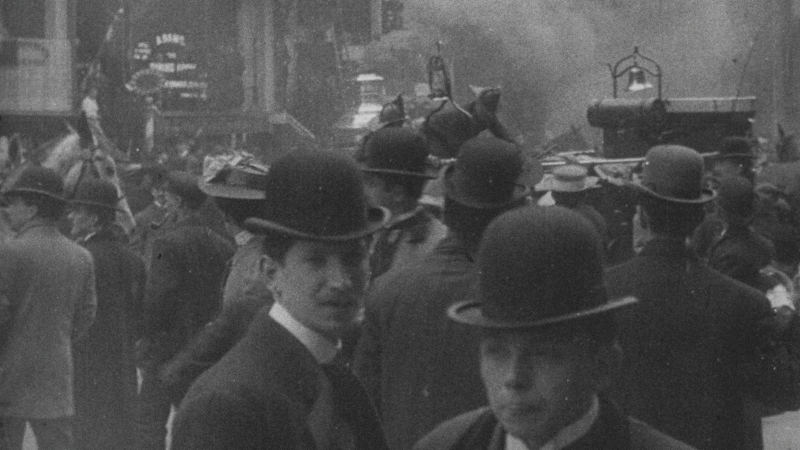 While pre-1910 film of New York City does exist, much of it is derived from the re-photographing of "paper prints", long-ago deposited at the Library Of Congress for copyright purposes.

Sadly, these archived films do not have the rich clarity of the original (and now largely lost) 35mm nitrate films they represent. After 112 years Historic Films has unearthed a gem in the form of an unseen and immaculate 35mm nitrate print, filmed on the streets of New York City in 1907.

Historic Films are delighted to offer researchers access to this previously unseen footage from the Gilded Age in Manhattan. The reel includes some of the earliest moving images they have ever seen of Macy's Department store on 5th Avenue and the only footage they have ever seen of the legendary Reisenweber's Caf?, where historically, in 1917, the Jazz Age began.

This impeccable print is perhaps the last surviving asset of a long forgotten motion picture company by the name of SPITZ & ORTH. The reel, which runs five minutes, was purchased from them in 1932 by one Meyer David Strong and comes to Historic Films from his great grandson Henry Strong.

The footage exists in 4K and is now available for licencing.

Website: www.historicfilms.com

Next >

---
1923 Silent Classic Restored for BFI London Film Festival
Once thought to be lost for ever, the 1923 rags-to-riches story Love, Life and Laughter has been found and restored, bringing star Betty Balfour's magnetic charm to a new audience.


U.N. Report Warns On The Impacts Of Climate Change
A new United Nations report warns the impacts of climate change are increasing and inevitable. CBS News climate and weather contributor Jeff Berardelli joins CBSN to discuss the dire consequences to the Earth's oceans and icy regions.


New Emmy Winning Interview Archive from Reelin' In The Years
Reelin' In The Years Productions now exclusively represents the interview archives of four-time EMMY winning talk-show host Bill Boggs, with material of Frank Sinatra, Jane Fonda and numerous A-list guests.


London Streets Turn Festive for Car-Free Day
On Sunday the UK marked World Car-Free-Day, closing down roads to vehicles and bringing awareness to pollution caused by traffic. The annual event encourages people to cycle, walk, and use public transport.


Best Before Death – Eccentric Pop Star's Journey
Bill Drummond, founder member of influential 80s pop group the KLF is going on an oddball world tour, making things, baking cakes and shining shoes, while the camera records the bemused reactions of the people around him.


Martin Lisius - Filming Extreme Weather on 35mm Film
The StormStock founder and expert storm cinematographer explains why he films storms with cumbersome 35mm cameras: because the images are beautiful.


Global ImageWorks Premium Collections
Global ImageWorks exclusively represents outstanding music and entertainment films and television shows including Austin City Limits, The Dick Cavett Show, The Films of Robert Mugge.


What Can Be Saved? Environmental Series by AP
The Associated Press will roll out a series of in-depth, multimedia stories beginning Sept. 17th that will chronicle twelve examples of intense efforts being waged around the world to save or revive ecosystems, reversing some of humankind's most destructive past actions and preserving vital natural habitats on Earth.


HQuality Tells Customised Stories
Formed in 2017, Italy-based storytellers combine cinema-quality footage with customisable videos, including licenced music, so that clients can have bespoke videos to promote their product or services.


footageMarketplace 2020 is Coming!
The UK's premier footage industry event is returning to London in June 2020. This showcases all the best footage agencies in a stylish location, and brings sellers and buyers together.


StormStock Continues to Lead the Way with 16K Video
StormStock cinematographer and founder Martin Lisius has returned from the plains with a batch of amazing storms he shot on 16K. StormStock was the first to produce and offer 16K video for licensing in 2018.


Spooked Elephant Tramples Through Parade Injuring 17
A terrified elephant taking part in a festival in Sri Lanka has run berserk, throwing its driver off and trampling on him, according to footage published by The Sun.


Thrilling Wingsuit Flying Stunts Amaze Audience
Sixteen wingsuit flyers from eleven countries performed target-hitting stunts during the 2019 Wingsuit Flying World Championship in Zhangjiajie City, central China's Hunan Province on Saturday.


'Alien-like' Creature with Tentacles Caught off Coast of Alaska
A clip of the deep sea creature with long tentacles around its tiny orange body was posted online and has been viewed more than one million times. A fisherwoman caught it near Prince of Wales Island, Alaska.


Red Libraries Sound Sale
A good selection of sounds for use in a wide range of commercial and non-commercial post production is available for 35% off.


What Exactly is a Hurricane?
In this interesting article StormStock founder Martin Lisius explains the difference between different kinds of storms, including hurricanes, typhoons and cyclones.


World Gravy Wrestling Championships 2019 from Newsflare
The 12th annual World Gravy Wrestling Championships was held at the Rose 'n Bowl pub in Stacksteads in Lancashire, UK. All wrestlers are sponsored to take part in an effort to raise money for good causes.


American Factory – Culture Clash Documentary
Netflix has just premiered a new, original documentary, executive-produced by no less than Barack and Michelle Obama, about a US factory and the culture clashes between its Chinese and American workforce.


StormStock Image of the Month – Unusual Lightning
Whimsical lightning, 2019. Atmospheric conditions determine what lightning will look like. On this evening in North Texas, Mother Nature decided to have some fun.