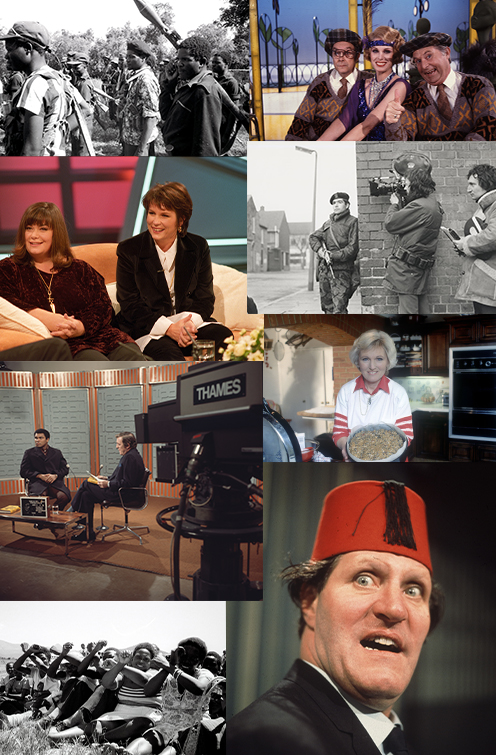 Profile
Celebrating over 40 years of Thames Television, Fremantle represents the best in independent television from 1960s to the present day. From Fact to Fiction, Drama and Light Entertainment to Children's TV, News and comedy not to mention the flagship Current Affairs programme of its day This Week & TV Eye the archive boasts some of the world most widely recognised and cutting edge TV shows.

Current Television visual phenomena like American Idol, X-Factor, The Apprentice, Britain's Got Talent, Neighbours and Family Fortunes (Feud) stand alongside classics such as The Sweeney, Baywatch, Men Behaving Badly, Benny Hill, Rainbow, Dangermouse, The World at War, Morecambe and Wise, Minder, Des O'Connor Tonight and Thames News itself amongst several others.

Thames TV Documentaries, News and images are available for viewing on a new website showcasing the best in worldwide documentary film-making of its era. www.fmearchive.com.

The archive division also boasts a Stills library featuring more than 500,000 images providing a unique pictorial record of the top shows on ITV at the time of its golden era. This library houses numerous unseen and exciting celebrity images.


Specialities
Entertainment • Personalities • Gameshows • Cartoons • Showbiz • Celebrities • Television • Television Classics • Documentaries • Drama

Fremantle

1 Stephen Street
London
W1T 1AL
UK
Tel: +44 (0)20 7691 6733
Fax: +44 (0)20 7691 6080
Contact name:
Gordon Craig
( Head of Archive Sales )




All clips appearing on this website are protected by UK and international copyright laws. You may NOT reproduce them in any way, for any purpose whatsoever, without the explicit permission of the respective copyright holders.